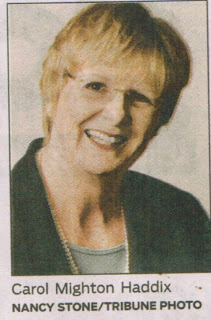 I feel like I lost a best friend.  My heart sunk a little when I opened  my beloved Chicago Tribune's "Good Eating" section in  last week's Wednesday newspaper, and read the article entitled "A Farewell to Good Eating and to You."  Carol Mighton Haddix, food editor extraordinaire, announced that "it's time to hang up the whisks."  After forty years in the newspaper business, and thirty-four of them as the food editor and food writer for the Tribune, Carol retired as of April 1st.  For me, and I'm sure for many, Wednesday mornings will never be the same without Carol.
If you click on the photos to the right about my "culinary cellar," you will see my card catalogue and huge filing cabinets.  They are stuffed with Carol recipes and Carol articles.  Carol was the food editor for thirty-four years, and I have thirty-four years of her recipes lovingly divided into categories, with comments written on the margins of articles about how much I loved the recipe, when it was served, and other notations.  I still delight in going back all those years and seeing what was the trend of the time.  Carol was a genius at keeping up with everything.  I trusted her opinions, her recipes, and her outlook on the food world.  Carol has guided us through emerging food trends from French nouvelle cuisine to American restaurant cuisine; from new age pizza to Cajun blackened redfish.  She was always there to give us tips when economic times were dismal and how to cook well on a budget.  I loved when Carol would report on famous chefs who graced the Tribune test kitchen, like Julia Child who judged a cookie contest (but Julia didn't like the entries!), or chatting with Paul Pruddhomme who brought Cajun cooking to national prominence.  Carol is a food celebrity in her own right with impeccable taste and knowledge of the food world.  Carol was the former chairman of the Beard Book Awards, past president of "Les Dames d'Escoffier Chicago," a professional food society, co-author and editor of numerous cookbooks, winner of writing awards from the James Beard Foundation, and selected to judge national cooking contests such as the Pillsbury Bake-Off, National Chicken Cooking Contest, and the National Beef Cook-Off.  These are only a few of her many accomplishments.
There has been a noticeable change recently in food sections of newspapers and food magazines.  Sadly, many are either going or even gone.  Carol expressed it best in the article:  "It's sad to see the diminishing food sections and corresponding shrinking advertising that support them, just when it seems as if food is on more people's minds than ever before."  How right she is.  There is more talk now about cooking, nutrition, sustainable and organic foods, and health issues relating to food.  Television is loaded with cooking shows and cooking competitions.  Food and wine festivals are popular across the country.  Some believe that newspaper food sections, food magazines, and even cookbooks are becoming obsolete due to the latest electronic gadget with everything at your fingertips.  I keep up with these gadgets and enjoy some things about them, but nothing can ever replace holding a yellowed recipe card from your grandmother in your hand, or relaxing and reading a cookbook the size of a dictionary, then taking it into the kitchen to start dinner.  It will be a sad day indeed if these elements simply become an APP or computer file in cyberspace.
Carol says she is now going to move on to projects such as writing cookbooks (yes!!), traveling to sample the foods of the world, and as always, cooking favorite dishes.  Thank you for everything you taught us, Carol.  You will be sorely missed by your admirers.  I will have you around for a long time in my recipe cards, clippings, and cookbooks, but especially when I am standing in my kitchen making dinner from one of your recipes I glued onto a 3-by-5-inch index card back in the '80's.  In my heart, you will always be my cooking buddy.