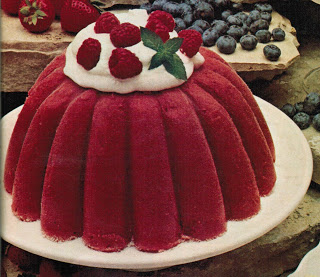 Make this beautiful and easy dessert a day or two ahead, and serve after the fireworks!  For fun, right before serving, stick a sparkler in the top and light it – then it will really be the "bombe!"
Raspberry Bombe
3 pints raspberry ice or sherbet, slightly softened
3/4 cup sugar
1/4 cup water
4 egg yolks
1 Tablespoon grated orange peel
1 teaspoon sugar
1-1/4 cups whipping cream
1/4 cup orange-flavored brandy
3 cups fresh red raspberries
1/2 cup whipping cream, whipped
Mint leaves for garnish (optional)
1.  Spread sherbet evenly over bottom and sides of lightly oiled 2-quart mold.  Freeze, covered, until sherbet is hard, about 2 hours.
2.  Heat 3/4 cup sugar and the water in small saucepan to boiling; boil until candy thermometer registers 238 degrees (soft-ball stage), about 8 minutes.  Meanwhile, beat egg yolks in small mixer bowl until thick and lemon-colored.  Gradually beat in hot sugar syrup in a slow steady stream until mixture cools to room temperature, about 15 minutes.  Refrigerate, covered, until cold, about 30 minutes.
3.  Combine orange peel and 1 teaspoon sugar in small bowl; mash together with back of a spoon.  Whip 1-1/4 cups cream in chilled small bowl until soft peaks form.  Beat in brandy and orange-sugar mixture. 
4.  Fold cream mixture into egg yolk mixture.  Spoon into sherbet-lined mold.  Freeze covered overnight.  Unmold onto serving plate.  Garnish with fresh raspberries, the 1/2 cup whipped cream, and mint leaves.  Serve immediately.  (Don't forget to stick a sparkler on top and light it right before serving! It looks really cute and festive).  Serves 10-12.