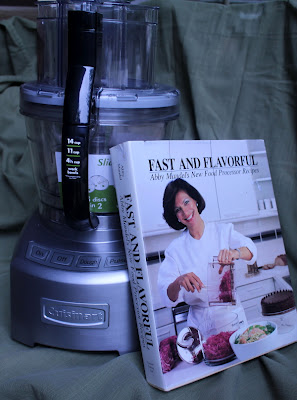 For many years, Abby Mandel and Cuisinart went hand-in-hand.  I still remember being in awe of the Cuisinart Food Processor when it was first introduced many years ago.   I instantly knew it had to be a part of my kitchen.  With Christmas right around the corner, my husband asked me what he could buy.  Of course, I said a food processor.  That was my first mistake, saying just food processor instead of Cuisinart Food Processor.  Silly me thought he surely must know what I was talking about.  My husband with his engineer mind, thought a food processor was a food processor; it didn't matter to him what brand, as long as it shredded and sliced, right?  On Christmas morning, I saw a big box and knew it was my Cuisinart.  I opened the package and there was…… (insert collective groan here) a Popeil Veg-O-Matic!  If you don't know what this is, let's just say it is not a Cuisinart.  Not by a long shot.  A very, very, long, long, shot.  I was crushed.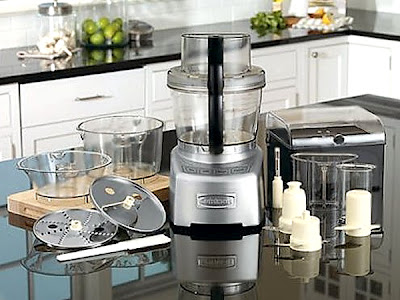 I never did use the Veg-O-Matic, but eventually bought a Cuisinart.  I also educated my husband on kitchen appliances.  He's much better now.  I used my first Cuisinart for many years, and it still works perfectly.  However, when I saw the newest model, it was time to retire my old original.  I gave my much loved old one to my youngest daughter when she moved to New York City.  I'm sure it will last for many years to come.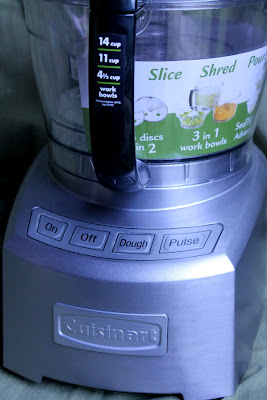 Would you look at this gorgeous machine?  It has three different cup sizes!  It's so big, that it looks like it could sprout wings and fly.  I am going to have an easy time making relishes that require lots of chopping.  I can't wait to get busy with it.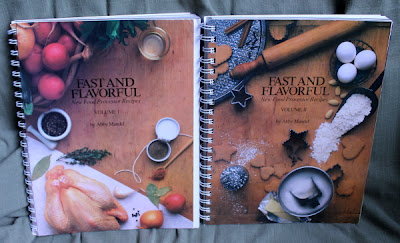 If you scroll back up and look at Abby's cookbook cover, this is what's inside.  The spiral bound cookbooks come in two volumes.  Volume 1 includes cocktail foods, first courses, soups and stocks; pasta, rice, and beans; pizza, tarts; savory souffles and eggs; meats and poultry; and fish and shellfish.  Volume 2 has vegetables, salads and salad dressings; yeast breads, quick breads, cookies, cakes and tortes; desserts, and pastries.  In other words, almost anything you would want to make.  Abby's recipes are easy to follow and make because the Cuisinart does all the hard work. 
Abby was the founder and president of Chicago's "Green City Market" until her death a few years ago.  She believed in beautiful fresh foods and showed the market with pride.  Her recipes in the cookbooks reflect her love of cooking with the finest ingredients, yet easy enough for anyone to follow.  I am betting she would have loved this new Cuisinart. 
My Veg-O-Matic is long gone, and I know my husband meant well, but like I said, he became educated quickly.  If you come into my kitchen, you will find numerous Cuisinart appliances – an ice cream maker, bread machine, electric pressure cooker, and much more.  Yes.  He got educated all right…