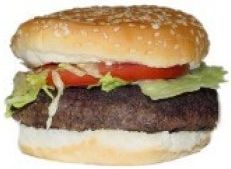 Here's a wonderful sweet and spicy sauce to baste on grilled hamburgers.  It can be made ahead and kept refrigerated for up to two weeks.
Beer-Basting Burger Sauce:
3/4 cup beer
3/4 cup ketchup
1/2 cup packed brown sugar
1 small onion, finely chopped
2 cloves garlic, minced
2 Tablespoons Worcestershire sauce
2 Tablespoons apple cider vinegar
1/4 teaspoon dry mustard
Salt and pepper, to taste
In a medium saucepan, combine all ingredients.   Bring to a boil over  medium heat.  Remove from heat and stir well.  Let sauce stand at least 30 minutes before using.