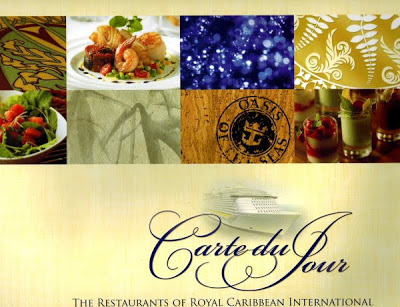 Since I have a passion for collecting cookbooks, it's nice to have family, friends, and loyal readers who generously send books to add to my ever-expanding collection.  My friend Roxanne sent this beautiful, enormous book for Christmas after returning from a cruise.  Roxanne is a world traveler and an expert on cruises.  She even had the executive chef from her Royal Caribbean cruise sign the book, which makes it even more special.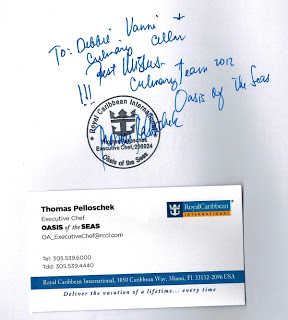 This stunning book was written to accompany the launch of Royal Caribbean's newest ships:  Oasis of the Seas, and Allure of the Seas.  In addition, a portion of the proceeds from the sale of the books benefit the Big Brothers and Big Sisters of Greater Miami, a volunteer-supported program helping at-risk children succeed through adult mentor relationships. 
Even if you have never been a cruise ship, you can still travel the world from the comfort of your own kitchen by preparing the recipes from the book.  There are many dining options aboard cruise ships, from classic French to sushi.  One of the newest and most contemporary dining experiences is 150 Central Park, where guests aboard ship can savor such dishes as a horseradish-crusted salmon with a sweet mustard sauce; seared scallops with a citrus puree and veal reduction; or banana ice cream with white chocolate banana crepe and tipsy cherries.  Experience a family-style feast influenced by the Tuscan countryside of Italy at Giovanni's Table, where you can enjoy a fontina and spinach souffle; veal scaloppine with basil hollandaise; traditional lasagne; and Tuscan doughnuts with a warm chocolate sauce.  If you love seafood, surfs up at the Seafood Shack, where you will find gumbo, fried calamari, or a grilled Cajun seafood platter.  Sushi can be found at  Izumi, a stylish Asian bistro decorated with bamboo and water lilies. 
I have only been on two cruises, but both times the meals at the specialty dining areas have been a highlight of the ship experience.  What's better than a memorable meal followed by sipping a glass of wine while sitting out on your room balcony, then being gently rocked to sleep by the gentle waves and dreaming of your next cruise. Or maybe remembering that last bite of a warm Tuscan doughnut..