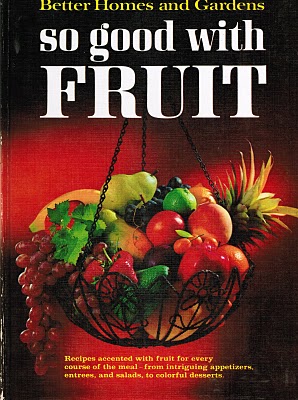 A Better Homes and Gardens classic from 1967, "So Good with Fruit" is the perfect cookbook for fresh fruits of all seasons.  There are so many good recipes for summer fruits, like pies, and ideas for canning and preserving.    It's filled with lovely photos and serving ideas, too.
If you would like to enter the random drawing for this cookbook, send me an email with your name and email address to my blog address at the right by midnight, July 30th.  I will email you if your name is drawn.
Congratulations to Donna-Marie from Massachusetts who won last week's drawing for the Hidden Valley Ranch and French's cookbooks.  This is the second time she has won a drawing this month, which goes to show it can really happen in a random drawing, so don't give up!  Come back every Monday to see the new cookbook give-away of the week!