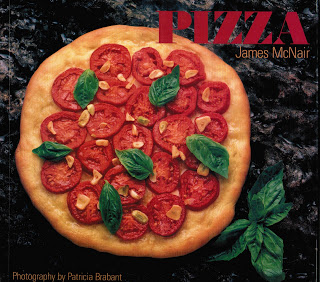 Friday's cookbook giveaway in my random drawing is Pizza, by James McNair.  Friday is the perfect day to give away a pizza cookbook, since it is the choice of many weekend meals.  If you collect cookbooks, you know James McNair writes great ones!  The cookbook has recipes for Chicago-style, New York,  French, and Italian pizzas.  You will find a Kung Pao shrimp pizza; pineapple and bacon; mixed seafood; eggplant and chevre; chorizo; chili pizzas, and many more. 
To enter the drawing for Friday's cookbook, send me your name and email address to [email protected]  by tonight at 11:59 pm CST, and I will notify the winner tomorrow.  Good luck!!
Come back again Saturday to see what the next cookbook will be!
Congratulations to Mary L. from Georgia who won yesterday's "Polenta" cookbook!