As we all know, many people make a New Year's resolution to eat healthier, lose weight, and exercise more.  Here's a start to some healthier eating.  If you can get past the unfortunate title of the first cookbook, you will find some great recipes inside!  Author Regina Ragone, who used to be the food editor at Prevention Magazine,  is now the food editor of Family Circle magazine.  I learned this when I ran into her at LaGuardia Airport in New York City  last year.  The airport was very crowded and there was no table to be found to sit in the food court.  I finally found a small table with two chairs where I could sit and drink some water before boarding the plane.  As I was sitting there, Regina walked up and asked if she could sit at my table with the extra chair.  We started chatting and somehow got on the subject of food and cooking and had a lovely conversation before boarding.  Regina has some really great recipes for you in this book, complete with all nutritional information, so those of you on Weight Watchers or other programs where you need to figure out points or exchanges, it's all there.  I have been making some wonderful meals from this book for several years, and when I found it at a book sale, I knew I had to get it so I could give it away to one of you!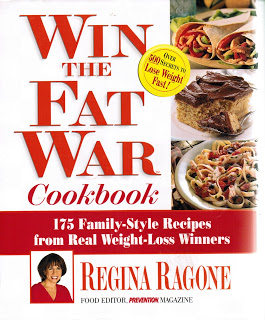 The next book is from the American Cancer Society, with recipes for healthy entertaining.  Plan next month's Valentine's Day with healthy menu ideas; or how about a Greek or Italian-themed party?  It's all in this book.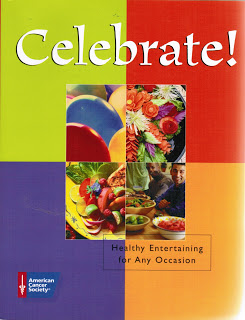 If you would like to enter the random drawing for these two books, send me your name and email address by midnight Friday CST, January 7th.  I will email you if your name is drawn.  Good luck!  And remember to check back every Monday to see what other books will be offered. 
Congratulations to Susan T. of California who won last week's cookbook drawing for Sarah Leah Chase's, "The Open House Cookbook."