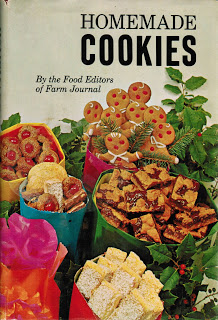 Wednesday's cookbook giveaway in my random drawing  is Farm Journal's Homemade Cookies.  If you are not familiar with Farm Journal's collection of cookbooks, you are in for a treat.  All of their cookbooks are home-style comfort foods that never go out of style.  The book is filled with hundreds of cookie recipes for bar, refrigerator, drop, rolled, molded, pressed, and meringues.  It's a classic!
To enter Wednesday's drawing, send your name and email address to [email protected] by tonight at 11:59 pm CST.  I will contact the winner tomorrow.  Good luck!!
Come back tomorrow to see Thursday's giveaway!
Congratulations to Shirley D. from Pennsylvania who won yesterday's cookbook, "Quick Breads."  What is it with Pennsylvania?  Monday's winner was also from Pennsylvania!  Lucky people!