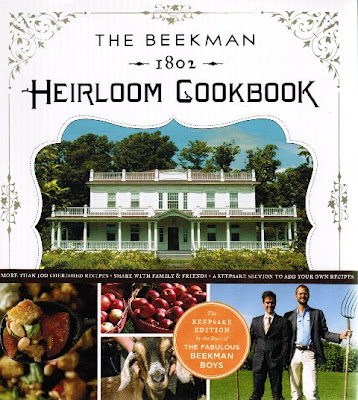 Why is it I didn't already own this cookbook?  I asked myself this at a book sale last week.  It took me all of about 30 seconds to peruse it and know it was a winner.  Most nights, I bring a book up to bed to read by flashlight so I won't keep my husband awake.  I would have read it longer than a half hour, but my flashlight died, just as I had started the "Winter" chapter.  I could have read it for hours. 
Beekman 1802 is the upstate New York home of The Fabulous Beekman Boys, Brent Ridge and Josh Kilmer-Purcell, stars of the Planet Green television show.  Their beautiful farm is over 200 years old and rests on sixty acres of land.  Since the nearest grocery store is twenty miles away, they had to learn to live off the farm, and depend on surrounding farms for items such as fresh milk and maple syrup, and how to forage for items such as wild leeks.  The recipes are divided in chapters of Spring, Summer, Fall, and Winter, as they were developed along with the seasons, since the excitement of cooking comes from seasonal spontaneity.  When peas appeared in the Spring, pea pod risotto was born.  Fresh green beans led to a summer slaw, apple dumplings came with fall, and winter brought stews and soups.  All of the recipes became heirlooms-  recipes that they continue to make every year and pass onto family and friends.  Heirloom recipes are treasured and passed down from one generation to another. 
One recipe I can't wait to try is the deviled eggs with smoked trout, curry, lemon, green onions, and  half-and-half stirred with the mayonnaise and Dijon.  When my husband travels up to the Upper Peninsula of Michigan to visit his Finnish relatives, I ask him to bring back some smoked trout.  I love deviled eggs, but have never tried them with a filling of smoked fish.  Not only are there over 100 cherished recipes in the book, but go their website,
www.beekman1802.com
, to find out more about the farm, how to order their many products (I just ordered three kinds of honey yesterday), subscribe to the newsletter, and find even more recipes.
Since I tend to scribble notes in all my cookbooks, I was pleased to find a special margin alongside each page to write thoughts about the recipe.  There is also a middle section with pocket inserts to place your own recipes, maybe something you cut out of a newspaper, or to write your own inspirations.  The photos throughout the book are breath-taking and worthy of framing.  There are personal family memories from Brent and Josh, my favorite being a Thanksgiving tradition from Brent's childhood.  After the Thanksgiving Day meal served as a late lunch, the table and all of the food still on it would be covered with a clean, crisp white sheet.  The whole family would then go for a walk in the woods that surrounded the house.  After several miles of brisk walking through the autumn leaves, the group would return home, uncover the sheet, and feast again! 
This book is definitely a keeper – or rather- an heirloom.