Everyone knows today is the biggest shopping day of the year, so I am outta here!!  Hope you all find some bargains, too!  Have a great holiday weekend!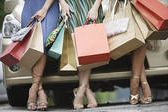 If you aren't too tired of pumpkin yet, here is an idea to use up that one last cup of pumpkin you might have left over from pie-making.
Pumpkin Cardamom Dessert
2 cups old-fashioned rolled oats
1/2 cup butter, melted
1/2 cup packed light brown sugar
1/4 cup hot water
1 teaspoon ground cinnamon
1/2 teaspoon ground cardamom
1/2 teaspoon salt
1 quart coffee ice cream, softened
1 cup canned pumpkin
3/4 teaspoon ground cardamom
1/2 teaspoon ground cinnamon
Dash ground cloves
Whipped cream
Ground nutmeg for dusting
1.  Heat oven to 325 degrees.  Mix oats, butter, brown sugar, water, 1 teaspoon cinnamon, 1/2 teaspoon cardamom, and the salt in a medium mixing bowl.  Spread mixture on bottom of greased baking dish, about 11-3/4-by-7-1/2-by-1-3/4 inches.  Bake for about 30 minutes; cool.
2.  In a large mixing bowl, combine ice cream, pumpkin, 3/4 teaspoon cardamom, 1/2 teaspoon cinnamon, and a dash of cloves until well blended.  Spoon over cooled crust.  Cover and freeze until firm, at least 6 hours or overnight.  Remove from freezer about 10 minutes before serving.  Cut into squares and top each serving with a dollop of whipped cream and a dusting of nutmeg.  Serves 8-10.