My daughter Kristina, from BetterRecipes.com, is giving away a ham this week!  If you would like to enter the drawing for the free ham, follow this link: 
In the meantime, enjoy the following ham recipe! Also check out the blog following this one for information on how to order the cutest chocolate Easter candies from the Napa Valley!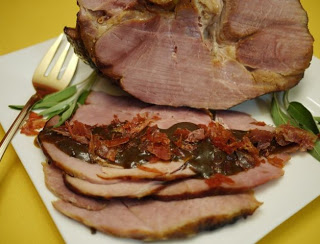 ROASTED HAM SALTIMBOCCA
6- to 8-pound fully-cooked bone-in shank end ham, trimmed
1/4 cup chopped fresh sage leaves, divided
Pepper
4 thin slices prosciutto
1 cup chicken broth, low sodium
1 cup dry white wine (for non-alcoholic, substitute an additional cup of chicken broth)
4 tablespoons (1/2 stick) unsalted butter, cut into 4 to 6 pieces
3 tablespoons all-purpose flour dissolved in 1/3 cup cold water
Salt, if needed
Preheat oven to 325 degrees F. Position rack in lower third of oven.
Place ham flat side down in a large shallow roasting pan and score a diamond pattern about 1/8-inch deep into any fat. Sprinkle all over with 2 tablespoons sage and season with pepper. Bake until internal temperature reaches 140 degrees F, 15 to 18 minutes per pound total cooking time. After the first hour, baste with pan juices about every 15 minutes. Remove ham from the oven, transfer to a cutting board, and let rest 15 to 30 minutes.
While ham is resting, increase oven to 400 degrees F. Arrange prosciutto on a baking sheet and bake until crisped, about 10 minutes. Set aside to cool.
Also while ham is resting, drain the roasting pan, discarding liquid. Place the pan on the stovetop over medium-high heat. Add broth and wine, bring to a boil, and cook, scraping up any browned bits in the pan, until liquid is reduced to 1-1/2 cups, about 4 minutes depending on the size of the pan. Reduce to a simmer and add butter, and remaining 2 tablespoons sage, stirring until butter melts. Whisk in flour mixture and cook, whisking, until sauce thickens, 30 to 60 seconds. Remove from the heat. Season with salt and pepper.
Carve ham and arrange on plates or a platter. Crumble prosciutto on top. Serve sauce on the side.
Serving suggestions:
Because the ham is so flavorful, try serving a simple side of steamed new potatoes and asparagus or carrots. You can substitute dried sage (about 1-1/2 tablespoons) instead of fresh. And, although it would no longer be a classic butter-wine-sage saltimbocca, you can even replace rosemary, thyme, or a combination of herbs for the sage. If you like, omit the prosciutto.
Yield: 15 to 20 4-ounce servings
Prep time: 15 minutes
Cook time: About 2-3/4 hours
Nutritional Information per Serving:
Calories: 250 Fat: 10g Saturated Fat: 4g Cholesterol: 100mg Sodium: 2010mg Carbohydrates: 4g Protein: 32g Fiber: 0g