I am happy to announce that I will be guest blogging for my wonderful mother on The Culinary Cellar today!  My mom has a beautiful way with words and I can only hope that my blog will be half as eloquent as her daily entries.  
Although I am sure you have already learned so much about me through my mother's lovely blogging, my name is Kara and I am the youngest of the Vanni clan.  My exciting career has brought me back to the city that never sleeps, New York City!  As a born and bred foodie, there is nothing I love more than trying new food from all corners of the world right here in Manhattan.  
However, no matter how many restaurants are just steps away from my front door, there is no meal like a home cooked meal – one of the many lessons I have learned from my mother.   As I look back on my childhood, I am so thankful to my mother for making every single breakfast, brown bag school lunch, and homemade dinner – it actually helped create the woman I am today.  If you crunch the numbers, my remarkable mother has made nearly 22,000 homemade meals in my lifetime (and that underestimating!).  How lucky am I?  
This brings me to The Culinary Cellar's cookbook of the day: "How to Cook Everything: the basics" by Mark Bittman.  My boyfriend, Robert, and I took a stroll through SoHo this past weekend when this cookbook caught my eye as we browsed through a local bookstore.  Ever since I moved to New York six years ago and had a kitchen of my own, I called my mother almost every single day asking basic cooking questions.  For those who do not have a genius cooking momma like mine to call anytime, Mark Bittman's step by step instructions (including detailed photographs) will turn you into a cooking pro in no time!  Bittman's recipes are healthy, delicious, and truly "all you need to make great food."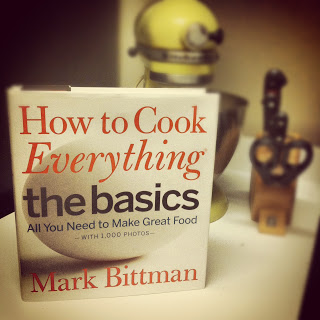 As I look at the title of Mark Bittman's cookbook, I also feel like it is an ode to my mother.  She is the one who has literally taught me how to cook everything! Not only did she teach me cooking basics, but she taught me how love is cooked into every meal.   My mom loves to cook but she also loves to cook for her family.  She is the most giving, beautiful, caring mother a daughter could ask for and I am so lucky to learn from the best.  
Over the past year, I learned what it means to cook with love for someone when I began to cook for the love of my life, Robert.  We have shared many special meals together and I feel so fulfilled every time we sit down to a home cooked meal I made with my own two hands.  The picture below is the only cooking photo of me in existence! Wearing an apron handmade by my grandmother, Robert says this is his favorite picture of me.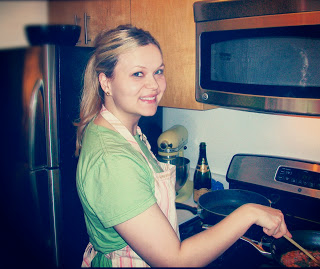 And I have come a long way since my early days in the kitchen!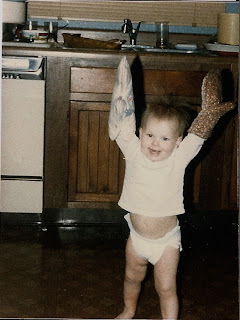 It is fun to look at these two pictures and see how much I have grown into the woman I am today.  My family will be entering into uncharted territory next week, but we have an unwavering bond of love that will get us through everything.  I have never been so proud of my mother in my entire life.  She is a fighter, a giver, a lover and the most generous person I have ever met.  I hope and pray that God makes me a mother someday so I can continue our cooking legacy and love of family and togetherness.   
I love you, Momma.  Thank you.
And here is to 22,000 more meals!