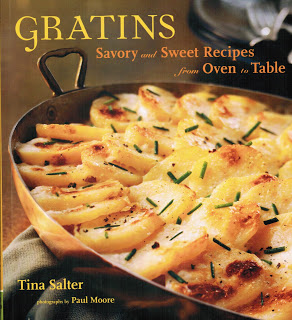 Seeing Christmas decorations in the stores in September drives me nuts, but somehow thinking of Thanksgiving dishes in October seems okay.  I love planning for Thanksgiving, whether I am having a huge crowd or just the four of us.  There are many traditional dishes I always make no matter what, like the dinner rolls my youngest, Kara, loves; or apple pie for my oldest, Kristina; or my mom's vegetable crisp casserole, which my brother Ken can't live without.  We have our traditions, but I also like to find a couple new dishes every year.  A few Thanksgivings ago, I made a concord grape pie and my husband went crazy for it, and it is now added to my list of traditions.  Sometimes an experimental dish will be a new dessert or stuffing, but my favorite dishes to play around with are side dishes.  There will always be mashed potatoes, but to me, the more side dishes the better.  I love serving several kinds of vegetables, and trying other starches besides just the potatoes. 
I went to my bookshelves and grabbed Gratins first.  There is something special about gratins.  They come to the table all bubbly and sophisticated looking, and you can't wait to dig through a golden, crusty top to see what creaminess lies beneath.  They always smell so good, too.  Gratins have been around for centuries.  In France, the aristocracy is referred to as "le gratin" or
"the upper crust," but this doesn't mean a gratin can't also be homey and comforting.  A gratin can be sweet or savory, elegant or home-style.  You can never lose with serving a gratin, and they can be made from a variety of ingredients.  Next time you are at a Farmer's Market and find an interesting vegetable or fruit, most likely it can be made into some kind of wonderful gratin.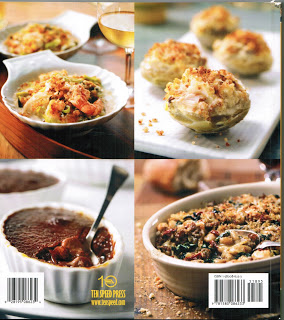 This photo of the back cover shows one of my favorites.  In the lower right corner is "Sausage, White Bean, and Chard Gratin."  The minute your spoon swoops in, the fragrant aromas of savory sausage, the earthy chard, the kick of sun-dried tomatoes, and the bite of Gruyere hit you square in the face.   Another favorite is the "Fennel, Onion, and Orange Gratin."  If you have never tried fennel, then try this dish first.  The licorice-flavored fennel combined with a touch of orange is heavenly.  Some that I can't wait to try are the gratineed kale and bacon soup, butternut squash and pecan gratin, cumin-flavored potatoes with poblano chiles and cilantro, lamb and eggplant gratin with North African spices, and prosciutto-mashed potato gratin.  Gratins can also be delectable desserts such as gratineed peach melba, Amaretti-topped apricot gratin, or tangelo custard gratin.  No matter how you prepare a gratin, it produces the same result – ooh's and ahh's from your family and guests – and a good gratin will make everyone feel "upper crust."