During the ongoing renovation of my Culinary Cellar, I think the most fun is finding little items I had placed between pages, or special thoughts written by the giver, if the book was a gift.  Friends, and everyone in my family know that if they don't know what to buy me for Christmas or a birthday, a cookbook is the safest bet.  I can never have enough cookbooks.  Obviously.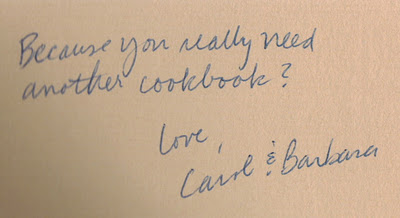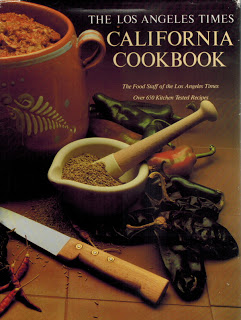 My cousins Carol and Barbara knew this when they bought this great cookbook for Christmas back in the early '80's.  They always knew to feed my obsession, especially Barbara.  I know that she didn't just grab any book off a shelf; she looked through many I am sure, before she selected this one.  Barbara loved to cook, too, and she would select one that she also liked.  Carol and Barbara used to have legendary Oscar parties every year, always with Barbara's great food.  Buying a cookbook from Los Angeles was no coincidence – Barbara loved everything Hollywood, and was even a personal assistant to Marlon Brando. (Who, by the way, adored Barbara and was so good to her).
Barbara passed away from a rare form of cancer way too young.  She never got to hold her darling grandson, Eli.  I miss her all the time, especially when I see her beautiful smiling face in photos holding my girls when they were little; or seeing all my Bake-Off books, which Barbara loved, and was in the process of finding each book for her collection, but it was never completed.  My daughter, Kara, still keeps the teddy bear Barbara gave her on her bed.  It was her last gift from Barbara, and Kara treasures it.
Every cookbook has a story, and this is one of my favorites.  I miss you, Barbara.  Always.