It used to be that kale was used mainly in soups or as a garnish, but now it seems to be on everyone's plate and on trendy restaurant menus.  Kale is high in vitamins A, C, K, along with being high in fiber and many minerals.  It is cholesterol-lowering, anti-inflammatory, and found to be a cancer fighter.  Both of my daughters love kale and introduced me to baked crispy kale chips, which are as addictive as potato chips!  My youngest has favorite restaurant in New York City called "Candle Cafe" where she bought a green tee shirt that says "Kale" on the front.  Now that the whole family loves kale, I decided to try a new recipe this past weekend.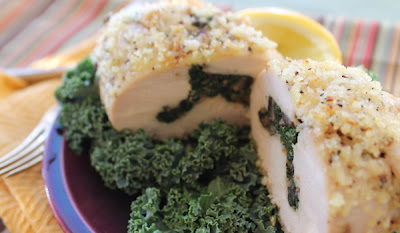 These are chicken breasts stuffed with kale and mushrooms, and proved to be a huge hit.  I will be making this again, and adapting it to different flavors and vegetables, but always including the kale.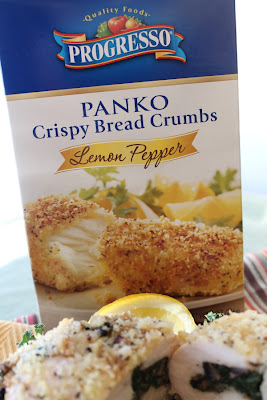 I am also a huge fan of panko bread crumbs.  While grocery shopping last week, I discovered that Progresso has different flavors of panko crumbs including lemon pepper and Italian.  I couldn't wait to try them and decided the lemon pepper would be perfect for the chicken idea.  We loved this dish, especially that it is baked instead of fried.  I hope you enjoy it, too, and try experimenting with other flavors and vegetables – just be sure to include the kale!
Lemon-Pepper Coated Chicken with Kale and Mushroom Stuffing
4 boneless skinless chicken breasts
Salt and pepper
2 teaspoons olive oil
1 cup thinly sliced mushrooms
1/2 cup finely chopped onion
2 cloves garlic, minced
1 teaspoon minced fresh oregano (or 1/4 teaspoon dried)
1/8 teaspoon crushed red pepper flakes
2 cups stemmed and chopped kale
2 Tablespoons white wine
2 Tablespoons mayonnaise
2/3 cup lemon pepper Panko crumbs
1.  Heat oven to 400 degrees.  Coat a shallow baking dish with cooking spray; set aside.
2.  Pound chicken breasts to 1/2-inch thickness.  Sprinkle salt and pepper on both sides of flattened chicken; set aside.
3.  Heat the olive oil in a skillet.  Add the mushrooms, onion, garlic, oregano, and red pepper flakes.  Cook, stirring frequently, until onions are softened, about 5 minutes.  Add the kale and white wine.  Cook, stirring frequently, until liquid cooks away and kale is wilted.  Remove from heat and set aside to cool slightly.
4. Divide and spread the cooked vegetables on each flattened chicken breast.  Roll the breasts up starting at the short end, and secure well with small metal skewers or toothpicks.  
5.  Spread some mayonnaise over each rolled breast, then roll each in the panko crumbs.  Place chicken in prepared baking dish and bake for 25 minutes, or until the chicken is golden and the juices run clear.  Remove toothpicks and serve.  Serves 4.  (we liked this served with brown rice and a tossed salad)