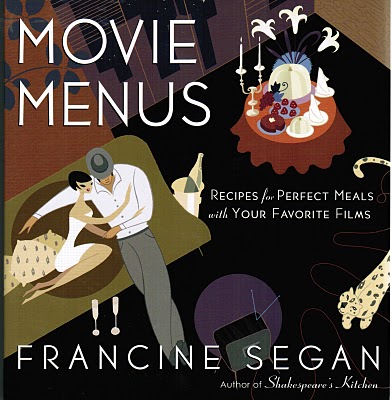 I bought this cookbook in 2004 for a couple reasons.  First of all, we just love movies in our family.  Added to that, my daughter Kristina has a degree in Theatre from Northwestern University, so movies and the entertainment industry have been a part of our lives for a long time.  If you have a child interested in the arts, Northwestern is a great place to study.  Director and NU alum Gary Marshall has a building named after him there, and Meryl Streep's daughter is a recent graduate of the Theatre program.  Last week, Kristina attended the New York City Food and Film Festival and wrote about it on her blog.  The festival combines the love of cinema and food, as does this fun cookbook.
The cookbook pairs classic movies with recipes to help you create a sensational dining experience for any film genre.  Both foodies and film buffs  will love this deliciously cinematic cookbook, which gathers authentic recipes from the cultures and eras portrayed in your favorite films.  The chapters are organized into ten distinct film genres- everything from "Pharaohs and Philosophers" and "Kings and Knights" to "The Wild West" and "Romantic Dinners."  You can enjoy a Renaissance feast while watching Shakespeare in Love or Old West Baked Beans while laughing at Blazing Saddles.  On the page of each recipe is a movie quote along with something amusing about the movie itself.  For example, did you know that Snow White and the Seven Dwarfs, Hollywood's first feature-length animated movie, had other names in mind for the dwarfs?  Can you imagine if they had used some of the suggested names such as Awful, Dirty, Gloomy, Jumpy, and Shifty?  Did you know that the famous closing scene of Casablanca was filmed without a firm script and shot with several different endings so that not even the stars knew if Ilsa would stay or not; or that the longest film kiss was between Steve McQueen and Faye Dunaway in The Thomas Crown Affair and lasted for almost one minute?
I personally like movies for foodies such as Julie and Julia, Who is Killing the Great Chefs of Europe, Like Water for Chocolate, No Reservations, or A Chef in Love.  I have many foodie movies that I play in the background while I cook.  Whatever genre of movie you love, you will find recipes in this cookbook to make your own home movie-viewing more enjoyable.  One of the many favorite food lines is from Walter Matthau in The Odd Couple when he asks – "Do you want brown sandwiches or green sandwiches?  The green sandwich would be either very new cheese or very old meat."  Don't worry, that recipe is not in the book.