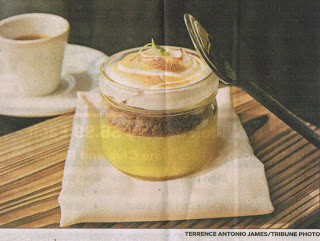 With the resurgence of home canning and preserving, coupled with a touch of nostalgia, chefs around the country are serving desserts, salads, soups, and other items in home canning jars.  Sometimes it may just be some marinated olives, or something as spectacular as the Key Lime Pie seen above from  restaurant GT Fish and Oyster in Chicago.  The key lime filling is spooned into the jar, followed by a layer of crushed ginger snap cookies, and topped with a Swiss meringue that is torched right before serving.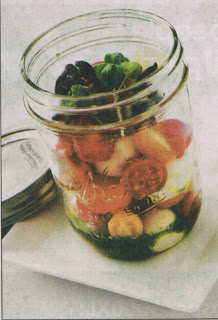 A jar of Caprese Salad!
Serving in jars not only looks comforting and appealing, but makes the person enjoying the food feel like it was custom made just for them.  This form of serving food is so popular, in fact, that apparently it is becoming difficult to find Mason jars in some cities!  For a full effect, some servers will bring the covered jars to the table, take off the lid, and offer to add freshly ground pepper as the aroma escapes to the diner.  Use your imagination and see what you can come up with to surprise your guests.  Just ask mom or grandma if they can spare some jars.