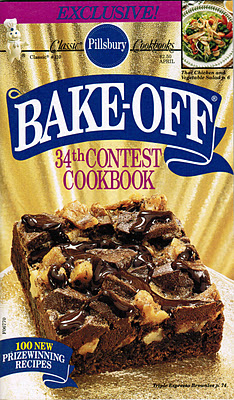 Welcome to Part II of the 34th Pillsbury Bake-Off Contest from 1990.  I hope you read yesterday's blog about the winning recipe, "Blueberry Poppyseed Brunch Cake" from Linda Rahman of Petaluma, California.  If you haven't yet made this wonderful cake, you are missing something special.  Find the link to the recipe on yesterday's blog and on today's blog at the end. 
I made a Part II of this Bake-Off blog because there was so much to say and see.  The contest was my second time as a contestant.  With me were my husband, Bill, daughters Kristina and Kara, and my mom, Pat Bradley.  It was my mom's first time to be at a Bake-Off contest, but….. if you read next week's blog there will be a big surprise and I guarantee that you will see more of my talented mom… and you just might see more of  Kristina, too.  And again, I will have lots and lots of photos!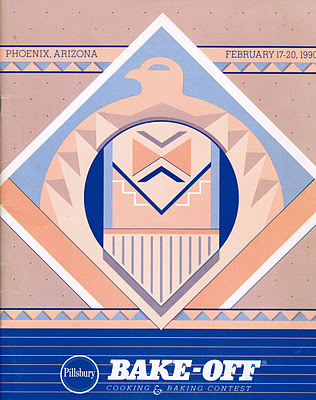 This book was one of the first items given to contestants at the registration area.  It contains some Bake-Off history and photos, along with the names and a short bio of each contestant.  There is also a map of the Bake-Off cooking floor so we can see at which range we will be cooking our dishes.  It was so exciting to see old friends again and make new ones.  In this contest was my friend Shirley DeSantis's husband, Alex, and son, Tony.  This marked the first time a father and son competed against each other in the same Bake-Off.  My friends Lisa Keys and Priscilla Yee were there.  Bake-Off's tend to be like a high school reunion, and you will hear squeals of delight as people meet up with their friends from previous Bake-Off's.  Lisa sent me some of her memories, of this, her first Bake-Off contest:
"I didn't have a clue about contesting.  I sent in one hand-written recipe and thought it was a joke when I got the call.  My husband I were in complete shock that we were treated like celebrities – and all for my little recipe which I called "Glastnost Apple Pie."  I had never been out West, never saw a real cactus before, and had never been to a rodeo-  it was all such fun.  George Bush was President and the barriers between our country and the Soviet Union were coming down.  My recipe was good old American apple pie with touches of what I thought represented Russia – sour cream and vodka.  Pillsbury changed the name to "Sour Cream Apple Raisin Tart."  I suppose the part that touched me most was Sally Pillsbury telling us that we were the best cooks in America and then she led us in the song "God Bless America."  It just felt good and I was bitten by the bug.  Little did I know that I started at the top.  There was an elderly fellow contestant who said to me that she had tried most of her life to become a contestant and now she could die happy – imagine that.  I felt so honored to be a part of it."
Lisa may have started at the top, but she stayed there.  There were more Bake-Off's and contests to come and Lisa is a superstar in the cooking world.  She also makes this world a better place because of who she is, and she is very much loved.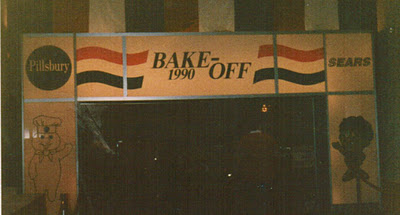 Here was the entrance to the Bake-Off cooking area.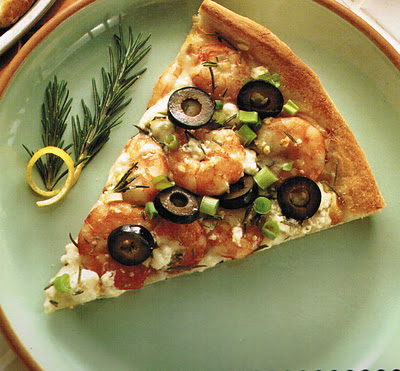 This was my entry for the Bake-Off,  "Shrimp and Feta Greek-Style Pizza."  I used Pillsbury's All-Ready Pizza Crust, and the filling consisted of shrimp, feta cheese, garlic, mozzarella, green onion, fresh rosemary, and ripe olives.  I still love this recipe as it has so many of my favorite ingredients, although gourmet-type pizzas were not the norm at the time. One food editor stopped by my cooking station and said she loved "those new-age pizzas," whatever that meant!  Even in the Bake-Off book, Pillsbury described it as a tempting "change of pace."  I think my pizza was a little too offbeat for the Bake-Off!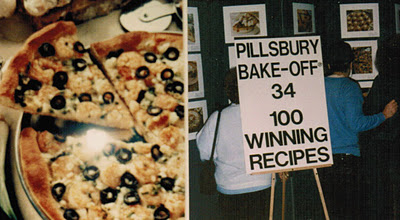 Outside of the Bake-Off area was a gallery of all the winning recipes.  It was such fun to look at all 100 of the entries and scope out the competition.  The photography and food styling was marvelous.  Every single one looked like a winner.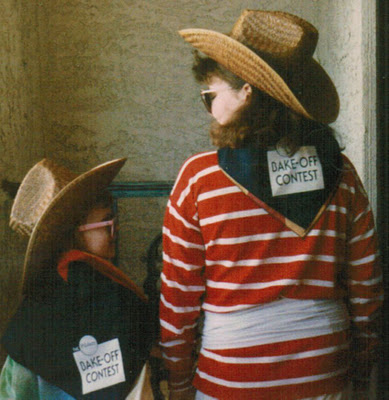 My girls got right into the swing of things in Phoenix.  Everyone got a cowboy hat and the Bake-Off scarf, which was made to look like the Arizona state flag.  The hats were too big for their little heads!  All the contestants wore the hats and scarves to a local rodeo.  I hadn't been to a rodeo since I lived in Oklahoma.  It was great fun for the girls to enjoy their first Bake-Off adventure.

Wild Kara in the Wild West!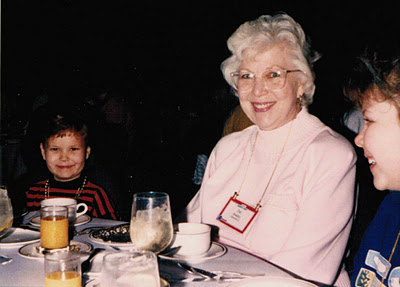 My mom with the girls at one of the dinners.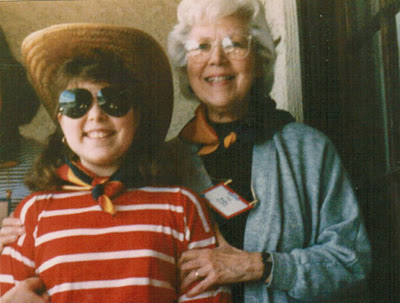 Mom wore her scarf, too, but I don't think she wore the hat!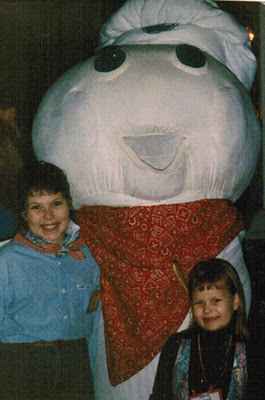 The Doughboy looked different back in the '90's!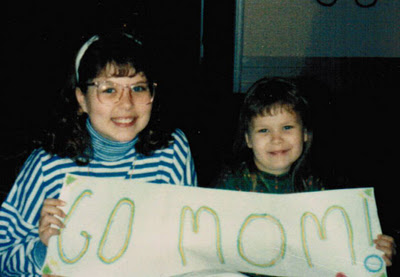 I love this photo.  Before we left for the contest, Kristina pulled out some computer paper (the old kind with perforations!) and wrote this sign.  Associated Press picked it up and I saw it in many newspapers, plus Pillsbury still uses it in some of their video footage about the Bake-Off.  You can probably find it online somewhere.
Some parts of the contest are a big blur.  I remember making the pizza twice as required, but have no recollection if I did the optional third time.  I just remember having lots of fun walking around when I was done cooking, and talking to the other contestants.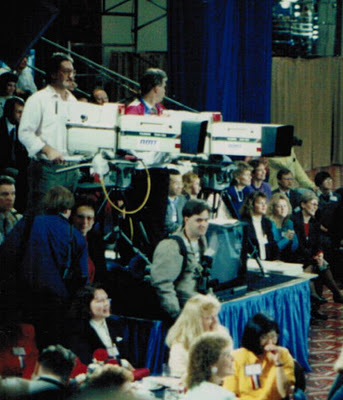 This is a photo of the awards ceremony.  Now let me explain a little bit about it.  If you go back to my Bake-Off blog of contest # 32, my first contest, I was seated way at the front and center with several of the eventual winners, including the grand prize winner.  At that table I was seated with my back to the camera so I pretty much knew I wasn't going to win anything.  Now look here at this photo where you can see me sitting right behind the person with the long blond hair.  Here I really, really knew I wouldn't win anything because the cameras were practically on top of my head!  The closest I would get to being on camera is if one of them fell on top of me.  But here's what I have to say about not being a grand prize winner at the Bake-Off.  It's okay. Truly.  If I had won either one of my two contests, then according to Pillsbury's rules, no one in my family could ever enter.  And as you will see in the blog next week, and again in Bake-Off # 39, it changed the life and future of my daughter Kristina.  Some things in her life now would not be where they are had she not been a contestant herself.  I am so grateful for the times I have been, and wouldn't change a thing.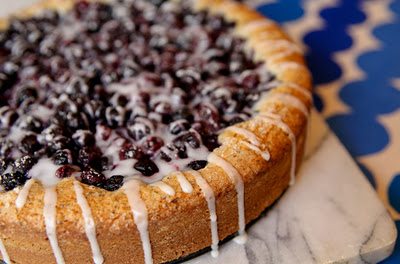 This is the grand prize winning recipe, "Blueberry Poppyseed Brunch Cake."  It deserved to win, hands down.  The recipe link is below.  Try it!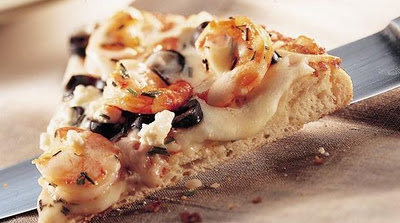 Here is another shot of my pizza.  I will leave you with the recipe just in case you would like to try it!
Shrimp and Feta Greek-Style Pizza
1 pound uncooked fresh medium-sized shrimp
1 Tablespoon cornmeal
10 ounce can Pillsbury Refrigerated All Ready Pizza Crust
4 ounces (1 cup) shredded mozzarella cheese
1 Tablespoon olive oil
2 cloves garlic, minced
2-1/2 ounces (1/2 cup) crumbled feta cheese
1/4 cup sliced green onions
1 Tablespoon chopped fresh rosemary
2-1/2 ounce can sliced ripe olives, drained
Shell and devein shrimp; set aside.  Heat oven to 425 degrees.  Grease a 12-inch pizza pan and sprinkle with the cornmeal.  Unroll the dough and place in greased pan; starting at the center, press out with hands.  Sprinkle with the mozzarella; set aside.
Heat the olive oil in a large skillet over medium-high heat.  Add shrimp and garlic.  Cook until shrimp are light and pink, about 1 minute, stirring frequently.  Spoon over mozzarella cheese.  Sprinkle feta cheese, green onions, rosemary, and olives evenly over shrimp.  Bake at 425 degrees for 18-22 minutes or until crust is golden brown.  Makes 6-8 servings.  (Each slice is 230 calories and 9 grams of fat).
To read more about the Pillsbury Bake-Off go to http://www.bakeoff.com/ 
To find the recipe for Blueberry-Poppyseed Brunch Cake go to: http://www.pillsbury.com/recipes/blueberry-poppy-seed-brunch-cake/d71cb63f-cbff-42da-8733-77808af19bef/#
Photo of the "Blueberry-Poppyseed Brunch Cake" are by my daughter, Kristina Vanni. Visit her blog at: http://www.betterrecipes.com/blogs/daily-dish
To read my previous Bake-Off blogs:
Bake-Off #1: http://su.pr/7gmylO
Bake-Off #2: http://su.pr/2zgjZn
Bake-Off #3: http://su.pr/7VZzZS
Bake-Off #4: http://su.pr/292acQ
Bake-Off #5: http://su.pr/2yOSvP
Bake-Off #6: http://su.pr/28VYBh
Bake-Off #7: http://su.pr/1hk3nb
Bake-Off #8: http://su.pr/22JMGd
Bake-Off #9: http://su.pr/2KkA2E
Bake-Off #10: http://su.pr/8awD1k
Bake-Off #11: http://su.pr/1CmPvD
Bake-Off #12: http://su.pr/3ogo5M
Bake-Off #13: http://su.pr/1a4HYQ
Bake-Off #14: http://su.pr/3tgiV5
Bake-Off #15: http://su.pr/7tQXBu
Bake-Off #16: http://su.pr/9nPW7c
Bake-Off #17: http://su.pr/9WIaqm
Bake-Off #18: http://su.pr/6MMS45
Bake-Off #19: http://su.pr/2A7GXI
Bake-Off #20: http://su.pr/2MwjlD
Bake-Off #21: http://su.pr/1nIgIJ
Bake-Off #22: http://su.pr/1nkUgJ
Bake-Off #23 http://su.pr/20jQDK
Bake-Off #24 http://su.pr/AMfFSj
Bake-Off #25 http://su.pr/4btzLZ
Bake-Off #26 http://su.pr/2sJrvp
Bake-Off #27 http://su.pr/9cG4B1
Bake-Off #28 http://su.pr/24CMm0
Bake-Off #29 http://su.pr/8th5eg
Bake-Off #30 http://su.pr/AUUGkZ
Bake-Off #31 http://su.pr/9j9TQ6
Bake-Off #32 http://su.pr/76Fl0s
Bake-Off #33 http://su.pr/26Q4KJ