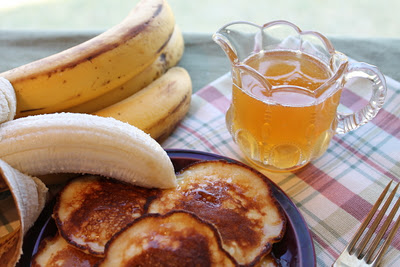 Pancakes are universally loved.  They can be thick or thin;  folded, stuffed, slathered with jam, syrup, sugar, butters, or served with whipped cream.  One of the most delightful rituals of a lazy weekend is having pancakes in the morning.  I made some yesterday morning that made me swoon, and I decided to post this instead of a cookbook.  That's how good they are.  Wait until you taste these – but don't make any substitutions or think they will be just as good with maple syrup. They won't.  You must make the honey-lemon syrup.  The special syrup adds something unique and necessary to the flavors.
This recipe is from the February 1983 issue of Cuisine magazine- 29 years ago!  When I saw the recipe was from one of my favorite cookbook authors, Jolene Worthington, I knew it would be amazing.  (Look for her German apple pancake in a later blog ).  But for now, make these and put a smile on your face this morning!  (And P.S. – this would make a lovely breakfast for your special Valentine in a couple weeks!)
Banana Pocket Pancakes with Honey-Lemon Syrup
1/2 cup (packed) cottage cheese
1/2 cup sour cream
1/2 cup plus 1 Tablespoon honey
1/4 teaspoon vanilla
1/4 teaspoon salt
2 eggs, at room temperature
1/2 cup sifted all purpose flour
1/2 teaspoon baking powder
1 small firm banana, peeled, cut into 18 thin slices
Vegetable or canola oil
2 Tablespoons fresh lemon juice
1. Blend cottage cheese, sour cream, the 1 Tablespoon honey, vanilla, and salt in a blender until very smooth, about 1-1/2 minutes.  Beat eggs in a medium bowl until frothy; beat in the cottage cheese-sour cream mixture.
2.  Sift together flour and baking powder in a small bowl.  Gradually stir into cheese-egg mixture; do not over mix.
3.  Lightly dust the banana slices with some flour and set aside.  Brush a griddle pan with a thin film of vegetable oil.  Heat over low heat, then medium heat until a few drops of water splashed on hot surface continue to sizzle several seconds.  Drop batter by spoonfuls (or a scant 1/8 cup measure) onto hot griddle.  Immediately top each pancake with one banana slice in the center, and spoon about a 1/2 teaspoon batter on top of each banana slice.  Cook pancake 1-1/2 to 2 minutes or until bubbles form on the surface.  Turn pancakes over and cook another minute or so until golden and puffed.
4.  Remove pancakes to an ovenproof platter; keep warm in oven set at lowest setting.  Lightly re-oil griddle pan as needed.  Continue to cook all the pancakes.
5.  In a small saucepan, heat the remaining 1/2 cup honey and the 2 Tablespoons lemon juice over low heat just until warmed, about 2 minutes.  Serve the hot pancakes on the platter or warmed individual plates.  Pass the warm honey-lemon syrup.  Makes about eighteen 2-1/2-inch pancakes.