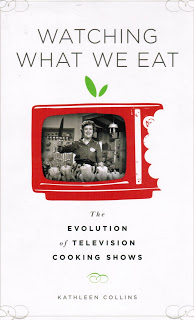 This fascinating book is not just for foodies, but also for anyone interested in American popular culture of food as entertainment.  I can't even begin to touch on all the information in this book.  You will just have to buy it and see what I mean.  You won't be able to put it down.  Starting with radio to the sometimes glitzy shows of today, food and cooking shows continue to be one of the most popular genres of television.    Kathleen Collins explains how it all started-  from food programming evolving to a new form of spectator sport, with heroes to worship and good food to enjoy.  The role of cooking has changed from necessity to channeling self-expression and lifestyle.  Some programs show viewers not just how to cook well, but also how to live well.
The story begins on radio, where broadcasts introduced us to Betty Crocker, who many believed to be a real person,  and "
Aunt Sammy
," the supposed "wife" of Uncle Sam, from the United States Department of Agriculture, who mainly appealed to women in rural areas.  Later, when Julia Child appeared on the screen in 1963, viewers were ready to combine sophistication in their everyday cooking.  Julia wanted us to feel empowered in the kitchen, and see cooking as fun and not just necessary or boring.  She was one of the first to have a food-centered cooking show as opposed to a homemaking show, which many were in the 1950's.  Julia was the first serious cook to show up at just the right moment in time.  America's palate was ready for her.
Julia's success spurred many cooking shows to follow.  The Food Network discovered that they needed to put great personalities on the air along with their cooking skills because without an exciting host, everything else falls flat.  This is why a host-driven show continues to be the hallmark of modern cooking shows.  Just think how many people flocked to watch Emeril with his exuberant style (Bam! Kick it up a notch!).  Emeril became the poster boy for the live audience, the in-studio band, and the high energy of a rock star, entering his kitchen to the roar and admiration of his cheering crowds.   Bob Tuschman of the Food Network has said that there are many chefs who are the best in the world, but they can't perform in front of a camera or audience.  The audience loves instead to watch Emeril, Paula, Guy, Rachael, Nigella, Bobby, and Ina, to name a familiar few. 
There is no doubt that the popularity of food and cooking has made attending  culinary school a credible, and even glamorous career choice.  The culinary school industry acknowledges that cooking shows have had a positive effect on their business.   According to national reports, both the number of, and the enrollment in professional and recreational cooking schools, has increased exponentially since the start of the 1990's, and shows no sign of stopping.  Cooking and learning about food touches on our physical and psychological needs of work, pleasure, and creativity, which engages us in life, which means that cooking shows will be around for a very long time.  The shows provide us with something we need along with something we want.  Everyone craves adventure and inspiration, but we don't always want to leave home to find it.  Sometimes it's in our own kitchen, watching Julia or Emeril, as we happily cook a meal.  "Bam!" is optional.
Bon Appetit!