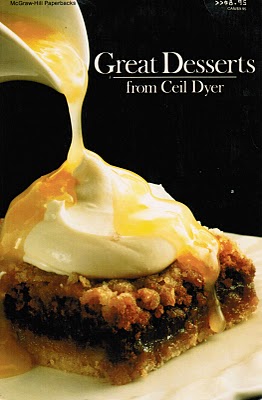 Talk about some delectable recipes!  Some of my favorite desserts have come from this fabulous 1986 cookbook.  I have let people borrow it over the years, but then they want a copy for themselves!  The only thing missing is photos.  The desserts are so gorgeous, that I wish some had been included.  The only one to view is the cover recipe, which is for "Christmas Apple-Mincemeat Squares with Whipped Cream and Lemon Sauce."  A recipe I always love to make when fresh strawberries show up at a farmer's market is for "Fresh Strawberry Tarts with Strawberry Glaze."  It consists of buttery nut tart shells, a cream cheese pastry cream spiked with kirsch, and a strawberry glaze with even more kirsch.  They are to die for, and look so beautiful!
The chapters are listed as romantic cakes, patisserie perfection, custards and creamy desserts, elegant fruit creations, frozen passions, miraculous meringues, small temptations, and seductive saucery.  There are over 300 dessert masterpieces to satisfy every sweet tooth.  Even though I LOVE chocolate, I was rather happy to see the book was not overloaded with chocolate desserts.  When I want something on chocolate overload, I go to one of my chocolate-only cookbooks.  These dessert recipes just scream of flavor, color, and elegance.  There is a beer batter gingerbread with a sour cream hard sauce, candied ginger cake with applesauce whipped cream, a creamy banana quiche, every flavor of mousse, frozen desserts and ice creams that will have you never buying ice cream in a carton again, and a chocolate baklava with a maple sugar syrup.
One recipe is called "The Most Beautiful Wedding Cake," and the first line states that, "Yes, you can do it yourself!"  Ceil assures us that "it simply cannot fail."  And she was right because I actually made this cake for a small wedding, even though I thought I was nuts to do it, and thought the bride was even more nuts for asking me to attempt it.  I told her I had never done a wedding cake before, but the bride was on a shoestring budget and they trusted me to make it.  I knew I could never duplicate those ultra-fancy decorated ones, so I searched for the perfect recipe for this wedding.  I found it in this amazing book.  Ceil said the layers could be made ahead and frozen, or not only that, the whole decorated cake could be frozen for several weeks after it had been frosted and decorated!  Now I didn't go that far, but I did make the layers ahead.  As she promised, the frosting was satiny smooth and easy to make.  The bride wanted fresh flowers on the cake (thank you!!) which made it so much easier, because there was no need to have all kinds of fancy swirls or sugar flowers.  It was just a beautiful, simple and elegant cake with fresh flowers, and the taste was amazing.  Okay, so it was all done and I was proud of my cake.  But now comes the hard part and that is to transfer it to the wedding site, which was in a private residence, with the reception in the back yard  graced with a beautifully decorated tent.  I very, very, c-a-r-e-f-u-l-l-y carried the cake to the back of the van and drove a short distance to the home, along with someone guarding the cake with their life as I drove.  I don't think I took a breath the whole way.  All went well, the cake was a huge hit, I went home and fainted a little, vowing I never wanted that kind of pressure again.  I received a call several months later from someone wanting me to make their wedding cake!  Apparently, they had been at the backyard reception and tasted the cake and declared it the best they had ever had.  I take no credit for that – thank you, Ceil, for a great recipe.  But I politely declined doing another cake.  I'm not THAT crazy!!