Yesterday, I watched my oldest daughter cook on the main stage at the National Restaurant Association Show, and today I will watch my youngest, Kara, compete for a grand prize of $5,000 in a beverage contest sponsored by Bacardi.  Here is her video entry and recipe that got her a spot as one of 6 competitors in the contest.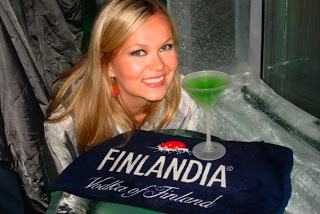 Rooftop Bacardi Bubbler
1 oz. Grey Goose Vodka
2 oz.  Bacardi Big Apple
1/4 oz. fresh ginger
2 oz.  apple juice
1 teaspoon crystallized ginger, finely chopped
Martini Asti
3 slices of apple
Shake Grey Goose Vodka, Bacardi Big Apple, ginger and apple juice in an ice filled cocktail shaker.  Moisten rim of martini glass and dip into finely chopped crystallized ginger.  Strain into prepared martini glass, fill with Martini Asti, and stir.  Garnish with three thin slices of apple.