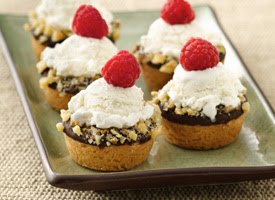 Here it is!!!  The Million Dollar Bake-Off Winning Recipe!
Sue Compton of Delanco, New Jersey is the proud winner with her "Mini Ice Cream Cookie Cups."  Sue said she spent an entire weekend experimenting with the eligible Pillsbury products before she was inspired by a container of ice cream in her freezer.  She wanted to make an edible bowl to hold ice cream and her recipe for Mini Ice Cream Cookie Cups was born.
Congratulations to Sue and the other category finalists!  I can't even imagine the thrill for them to be on Oprah.  Now they can all go back home and finally get some much needed sleep.
I will be writing more about the Bake-Off experience, so check back here later!  For now, you can go to http://www.bakeoff.com/ and check out all the winning recipes, and you might even want to make the million dollar dessert today!