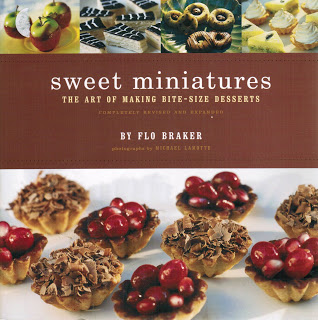 Bite-sized anything is popular these days, but when it comes to charm and elegance, nothing can beat bite-sized desserts.  Huge elaborate cakes may be a vision to behold, but most people would rather grab a variety of delectable little morsels.  Miniatures have a special kind of appeal.  Someone may not want to indulge in a large slice of lemon pie, but a lemon tartlet is another story.  It's fun to see a familiar item scaled down to a mini-size that seems to have its own personality.
Some special equipment may be needed to get started such as mini cupcake pans, tartlet pans, pastry bags, rolling pins, cookie cutters, and paper liners.  Once you get the basics, you will be able to make just about anything.  The book will show you how to make miniature cookies, pastries, cakes, and other sweets.  I love making mini eclairs and cream puffs.  My first experience with mini dessert items was making petits fours and marzipan.  I was fascinated with them, and can remember looking through old cookbooks with the photos of petits fours.  I thought they were the prettiest things I had ever seen, with their pastel colors and piped on rosettes. 
Tea shops and hotels offering high tea seem to be popping up all over lately, which shows the popularity of having mini sandwiches and mini desserts.  My daughters love going to the Mandarin Hotel in New York City for high tea and indulging in their miniature desserts.   Aren't these beautiful?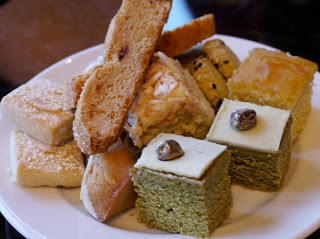 Or how about these at the Plaza Hotel in New York City?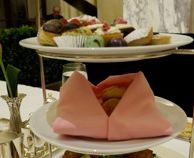 Aren't these more fun than one large dessert?  Get this book and your holiday table could look like this!