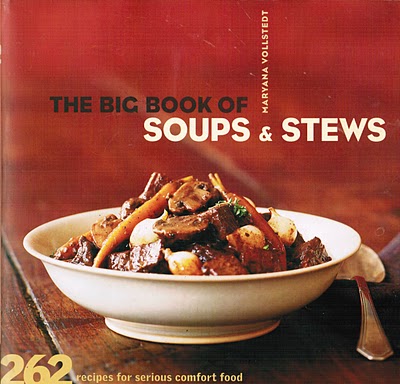 I am so excited.  Today is the official first day of autumn!  And you know what that means – hearty stick-to-the-ribs cooking can begin.  Soups, stews, breads, warm apple desserts, and pumpkin everything.  After the long hot summer, I am ready to bring on the big pots and simmer something on the stove all day long. 
Here's a great place to start.  I love how the author calls her recipes "serious comfort food."  You can't get more serious than a huge bowl of a soup or stew to feed the soul.  Just about every cuisine around the world has a traditional soup recipe such as Albondigas from Mexico, Borscht from Russia, or Avagolemono from Greece.  Soup is simply universal.  Homemade soups and stews are generally nutritious and easy to make.  They are convenient for make-ahead meals, can be made in one pot, and are a great way to slip in some vegetables that kids may not normally enjoy. 
The recipes in this book will leave satisfied all through the cool and cold months ahead.  There are recipes for meat, poultry, seafood, vegetable, and legume soups and stews.  Instructions are given for basic stocks and broths, toppings and garnishes, helpful hints, and even a chapter on breads to be paired with the soups and stews.  It is quite chilly here in Chicago at the moment, so tonight I am making a winter tomato soup that has a creamy tomato base from canned diced tomatoes, tomato paste, and dry red wine, along with spinach and herbs.  The author suggests pairing it with pesto buttermilk biscuits, which sound heavenly!  I can't wait to make these.  I think you will enjoy this ultimate comfort cookbook for the ultimate comfort food.
(P.S. For some equally comforting fall baking, check out my surprise baking booklet giveaway below, just for today!  I guarantee you will find something that will pair beautifully with a soup or stew meal!)