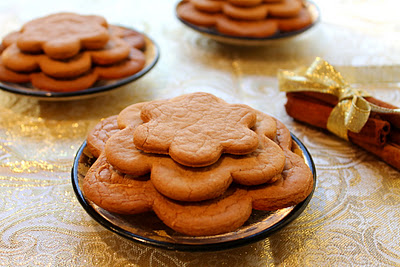 I got a new camera!  It's a Canon DSLR, which is a huge upgrade from my old Canon 35mm.  I even got an extra zoom lens.  These two photos are my very first attempts –  what do you think?!  Since I am new with this toy, I will take any advice you care to offer.  The above photo was taken in the kitchen with sunlight coming in from behind.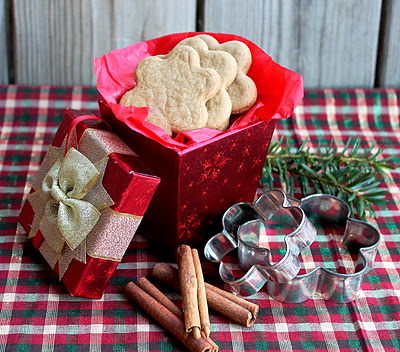 This photo was taken outdoors on the front porch in cloudy mid-afternoon light.  I couldn't believe the color difference in the cookies.  I think this is going to be fun.  I may have a new obsession and will now start collecting dishes, fabric, props, etc.  Oh, dear…   I only have one basement…
The cookies are wonderful!  I found the recipe in a cookbook that my girls bought me called "The Swedish Table" by Helene Henderson.  It caught my eye because I have never seen gingersnaps with whiskey.  The other recipes in the book sound fabulous, too.
Whiskey Gingersnap Cookies
1-1/2 cups sugar
1/2 cup water
1/4 cup molasses, maple syrup, or dark corn syrup
1/2 Tablespoon ground cinnamon
1/2 Tablespoon ground ginger
1 teaspoon ground cardamom
1/2 teaspoon ground cloves
1 Tablespoon whiskey
3/4 cup salted butter, cut into small pieces
4-1/2 cups all purpose flour
2 teaspoons baking soda
In a medium heavy saucepan combine sugar, water, molasses, cinnamon, ginger, cardamom, and cloves.  Heat over low heat, stirring constantly, until sugar dissolves and the fragrance of the spices has been released, about 5 minutes.  Stir in whiskey and let cool for 5 minutes.  Transfer sugar mixture to the bowl of an electric mixer and gradually add butter pieces, blending well to melt butter.  Add flour and baking soda.  Wrap dough in plastic wrap and refrigerate for 2 hours or overnight.
Preheat oven to 400 degrees F.  Cut dough into thirds.  On a lightly floured surface roll out pieces, one section at a time, until they are very thin.  Cut with desired shape of cookie cutter and transfer to parchment-lined baking sheets.  Bake cookies 8-10 minutes, watching carefully as they will burn quickly depending on the thickness.  The number of cookies depends on the size of your cookie cutters, but will make about 7-8 dozen.