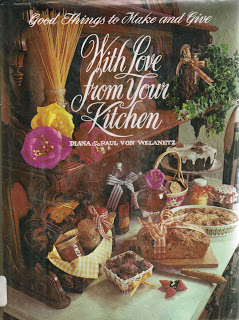 Gifts from the heart and your own kitchen are the best gifts of all.  That's probably why I have so many books on the subject, and this one is a keeper.  The authors, Diana and Paul von Welanetz, ran a cooking school in Los Angeles where, for years, their most popular course was about gifts from the kitchen.  This book is packed with over 120 gift ideas in 15 different categories, with dozens of suggestions for easy, inexpensive gift containers. Everything the gift-giving cook needs to know is covered in this book.
The chapters cover nuts and nibbles; hors d'oeuvres and cheese spreads; beverages, soups, casseroles, breads, preserves, sauces, herb blends, cookies, desserts, and more. What I love about every recipe is that there is a notation at the end about how to prepare in advance, special packaging that may be needed, and labeling. There is a chapter on non-edible items like making sachets, pomander balls, and items made from baker's clay, which is basically just flour, salt, and water.  Years ago, I remember making baskets from baker's clay and filling them with homemade goodies.  I have an extensive cookie cutter collection, one of which is the individual twelve days of Christmas.  I made ornaments using baker's clay from the cutters and painted them.  They are getting on in years, so I think it's time to make some new ones.
My favorite food gift from childhood was my Great-Aunt Margery's "klegens."  I can still see her making the spicy dough, which is anise-flavored, and rolling it into pencil thin ropes, then sliced into tiny little cookies about the size of oyster crackers.  They are pain-staking to make and it takes hours to bake a jillion little tiny cookies, but Aunt Margery did it with love.  There would be hundreds of bite-sized cookies lovingly placed in cookie tins for gift-giving.  My mom still makes them, and is in fact, making them this year.  Thanks, mom!