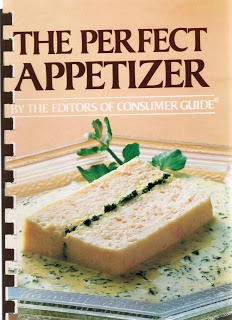 This was one of a series of books from the '80's about the "perfect" appetizer, dessert, and others,  published by the editors of Consumer Guide.  They are very small, spiral-bound cookbooks that have very few recipes, but they are all "perfection." There are only thirteen recipes in all, but ones that you will come back to over and over.
Some of the recipes are appropriate finger food, while others are sit-down, knife-and-fork type.  The recipes in this collection were chosen for their ethnic variety, diversity in textures and flavors, as well as ranges in preparation time, thus allowing you to choose the appetizer most suitable for your personal needs. 
The "perfect" is described in three ways:  First they must look perfect – and they do!  When you make as written in step-by-step direction, they will look just like the beautiful photos.  Second, they will taste perfect.  Each recipe has been specially developed with the perfect blend of the freshest ingredients.  Third, and most important, the results will be perfect every time.  The recipes are fool proof and were tested by professional chefs and amateurs alike.  The book promises a "perfect appetizer" by simply following the crystal clear instructions. 
You can enjoy some extraordinary chicken drumettes with a soy-ginger marinade and a sesame-walnut coating; or some Mexican fritters with Jack cheese, corn, cumin, and chili powder.  The cover recipe is an elegant shrimp mousseline with a fresh watercress sauce.  It may sound and look elegant, but it's not difficult and very impressive.  There are some very easy offerings such as a succulent crabmeat mixture atop crisp cucumber cups, and a ceviche that can be made in minutes. 
I want to wish you all a "perfect" Happy New Year with great food and great friends (who don't have to be perfect!).  Have fun tomorrow night and most of all – be perfectly safe!!