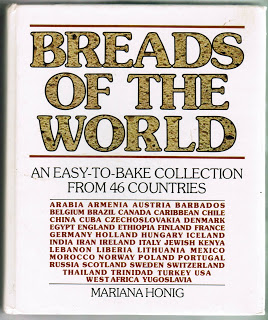 Maybe we don't live by bread alone, but I think I could.  "The Staff of Life" satisfies hunger, but so much more.  It's many things to many people.  Prehistoric man just ate the grains as he found them.  Unleavened bread was a part of many cultures like Mexican tortillas,  Scots oatcake, or Indian chapati.  Bread is also a symbol of fruitfulness and fertility.  The concept of a female grain exists in the folklore of many countries.  There is a "rye woman" in Denmark, a "baba" in Poland, and the Cherokee Indians have a ritual dance to "The Grandmother" of corn.  In Sweden, loaves of bread are fashioned in the shape of a female and eaten by the family to maintain health and fertility.  We even have the colloquialism of "a bun in the oven" for a child in the womb. 
All of these concepts are fine, but
nothing
beats having a slice of warm, homemade bread slathered in butter.  Oh, the joy.  Aren't we all lucky that there are so many bread books.  The author of this book, Mariana Honig, first became interested in bread baking from her childhood days in Sweden.  Later, she traveled extensively and collected hundreds of bread recipes from around the world and includes recipes from 46 countries.  I can't even begin to name all the recipes and countries, but you will not be disappointed in the variety.  There is Finnish rye bread, spicy almond bread from Turkey, rice bread from West Africa, gougere from France, broa from Portugal, kulich from Russia, and saffron cardamom braid from Sweden.  The recipes are for quick breads, sweet breads, sourdough, yeast, and even recipes for pancakes, waffles, and sandwiches. 
Find this book or grab your favorite bread book.  Become your own baker – you will eat better, stay healthier, and save money;  and not to mention even calming your nerves.  The best punching bag is a big ball of dough.  Who could be down in the dumps by participating in the magic of yeast rising?  Bread baking is a sensual and satisfying experience.  Take time to smell the bread.