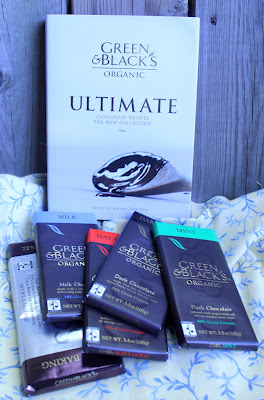 When I recently received a box from Green and Black's with bars of their delectable chocolates and a new cookbook, I was very grateful for their gift, even though they didn't have to sell me on the products.  I have loved Green and Black's since it was introduced in the USA, but I didn't have the cookbook.  The book is as wonderful as the chocolates.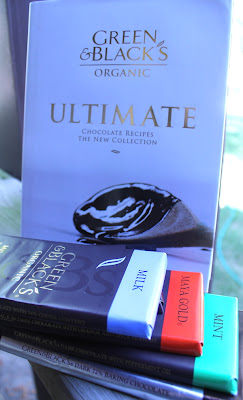 Green and Black's was introduced in England in 1991 as the world's first organic chocolate.  The "Green" is for the organic nature, and the "Black" because the 70% cocoa was the darkest on the market at the time.  The chocolates became available in the USA starting in 2003.  The organic chocolate bar varieties include almond, cherry, dark 70%, dark 85%,  espresso, ginger, hazelnut and currant, Maya gold, milk, mint, toffee, and white.  I love all the flavors, but my favorites have to be the ginger, mint, and hazelnut with currants.  I couldn't narrow it down to just one.
This is the second cookbook from Green and Black's, showcasing recipes from the many fans of the products including celebrity chefs, cookbook authors, and home cooks.  The first cookbook featured both sweet and savory, but this one is strictly baking.  Isn't that what most people do with chocolate anyway?  That is, unless there is a mint bar tucked away in the pantry and broken off piece by piece for a snack.  I'm just sayin'…
If you are a chocolate lover, there will be no problem finding a recipe to try in your kitchen.  The problem will be where to stop.  The Teatime chapter features cookies, brownies, cupcakes, cakes, scones, muffins, and quick breads.  Tortes, Tarts, Puddings, and Pies includes a Buche De Noel that might compete with my favorite recipe I have been using for years.  Desserts include mousses, sauces, souffles, and bombs.  I am always looking for excuses to use my ice cream maker in the summer, and the Ice Cream and More chapter has a dark chocolate and cardamom ice cream that sounds heavenly using  whole cardamom pods and a vanilla bean.  The last chapter of Sweets and Treats has chocolate marshmallows, chocolate fritters, crepes, and truffles, along with chocolate churros from a protege of El Bulli's Ferran Adria, and even a recipe from Sharon Osbourne, who admits to waking up at 2am and sneaking into the kitchen to eat Green and Black's chocolate ice cream. 
My own girls, who are now grown, have been chocolate fans since they were old enough to stir a pot.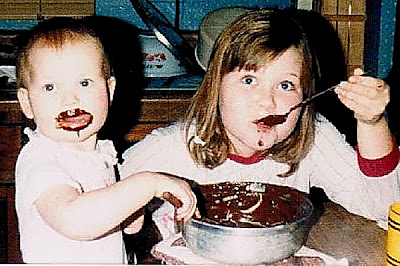 Life is short. Eat chocolate.  I highly recommend the mint. Square by delectable square.