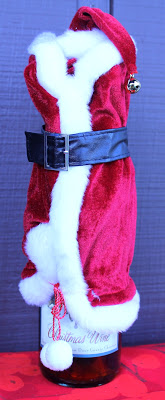 Now that Thanksgiving is over, it's time to start with some Christmas decorations. How cute is this?  It was one of the many treasures I found while in California a couple weeks ago.  Every wine bottle needs a Santa suit, right?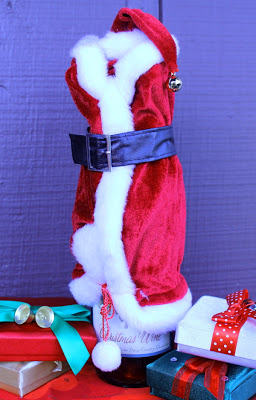 I also found some cookbooks, as I always do while traveling.  Some were found at a thrift shop near my mom's house, along with a couple little plaques.  I looked all over the store to see if there were others besides the "apple pie" and "lemonade," but couldn't find any more.  I thought they would be fun to display on my cookbook shelves.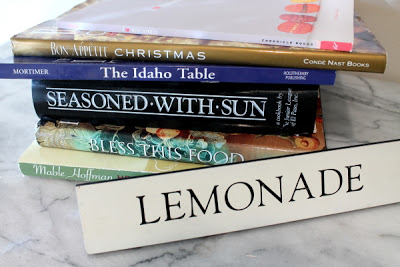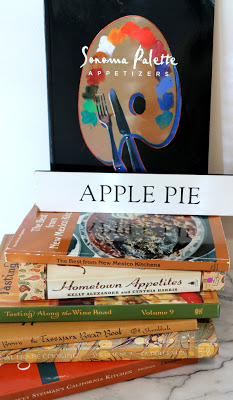 As you can see, I found some good ones.  I have been wanting the Sonoma Palette book for ages!  It's from the Sonoma Valley Museum of Art and consists completely of appetizer recipes.  Since it is from the wine country, each recipe has a wine pairing suggestion, along with a photo of the work of art that inspired the recipe.  If you don't like the recipe, you can frame the art!
I'm looking forward to using the Bon Appetit Christmas and the macaron books for some holiday cooking and baking.  I have also been wanting to read Hometown Appetites, the story about one of my favorite food writers, Clementine Paddleford.  If you enjoy reading about our culinary history and regional cooking, this is a must.  Clementine was probably America's first traveling food writer and had a fascinating life. 
First on my list to start cooking, even before Christmas cookies, is the Canal House Cooking, Volume 7.  Having just visited Italy less than two months ago, I have become obsessed with Italian recipes.  I bought a handmade gnocchi board in Tuscany and can't wait to make the gnocchi verdi, along with trying my hand at homemade ricotta. 
My daughter Kristina and I are going on a cruise this coming weekend, so come back soon and read about our adventure.  When I return home, it will be time to start on the Christmas baking.  If you have a favorite holiday recipe,  feel free to share it!