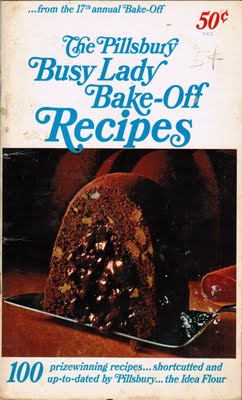 For the first time, the Bake-Off is no longer known as the Grand National Bake-Off.  Now it is just the Bake-Off –  except for this particular contest which was named the "Busy Lady" Bake-Off.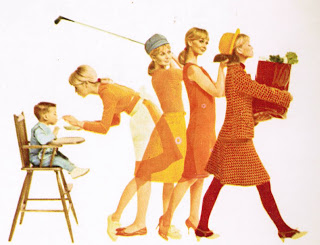 She is quite the busy lady of the times – a mother, golfer, baker, and shopper all in one!  Imagine that!  The recipes inside this Bake-Off book are described as "Updated," "Streamlined," and "Shortcutted."  They are recipes "that make baking from scratch as easy as you can imagine," and called the recipes "scratch baking the Pillsbury shortcutted way," which meant using products such as Pillsbury's mashed potato flakes, frosting mix, corn muffin mix, and instant blending and self-rising flour.  There were no cake mixes, but instead scratch cakes, using the frosting mixes in clever ways, one being the cover photo, but that is a whole other exciting story, which will follow below. 
In the meantime, meet the Grand Prize winner, Mrs. John (Mari) Petrelli from Las Vegas, Nevada.  Mari's recipe is called "Golden Gate Snack Bread," which Pillsbury called the "$25,000 triple-shortcutted snack sensation!"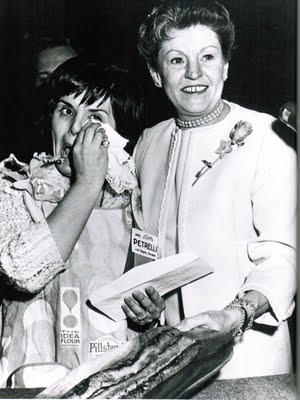 Eleanor Pillsbury presenting a tearful and elated Mari with her check!
Pillsbury described Mari's snack bread as: "Nippy onion. Blustery cheese. No kneading. Quick-rising. Seasoned with soup mix."  The scratch yeast dough made with a jar of cheese spread is rolled out into a large rectangle and spread with a buttery onion filling using a packet of onion soup mix.  It is rolled up and cut  into layers of dough and formed into two loaves and placed on cookie sheets. The resulting loaf makes an interesting new look to a yeast bread for snacking.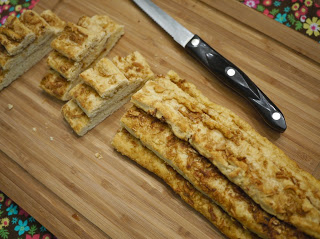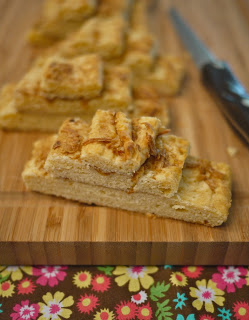 Here is a bit of trivia from this Bake-Off.  If you remember my blog from Bake-Off # 4, the winning recipe was "Snappy Turtle Cookies" by Mrs. Peter (Beatrice) Harlib from Chicago.  All contestants from current Bake-Off contests know the rule all too well that previous grand prize winners can never enter the Bake-Off again, nor can any family members.  On page 24 of this Bake-Off book is none other than Mrs. Peter Harlib of Chicago with her "Saucy Salmon Flips!"  She didn't win any money this time, but can you imagine if she had won it twice?  She might be the only grand prize winner who was allowed in again!  Lucky lady, or rather, a "busy lady" in the kitchen!
Even though Mari's snack bread took the grand prize, there was another recipe that became a media sensation.  Anyone who bakes knows of the famous "Tunnel-of-Fudge" cake.  It remains to this day the most requested and well-known of Bake-Off recipes.  It is seen on the cover of this Bake-Off book and was an instant hit all across America.  It catapulted the bundt pan into the best-selling pan in the nation and can even be seen in the Smithsonian Institution. 
Nordic Ware
, an American company, was the creator of the bundt pan as we know it.  On their site, you can buy a platinum anniversary bundt pan, or a pro cast original bundt pan.  The original bundt design was created to accomodate 10-15 cup recipes and mixes.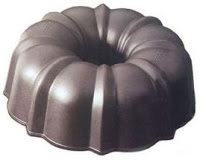 If you are a movie buff, you will remember this hilarious scene from "My Big Fat Greek Wedding" where one of the Greek family members does not know what a bundt pan is, much less a bundt cake!  (The bundt starts around the 2:00 mark)
The creator of the "Tunnel-of-Fudge" cake is Ella Rita Helfrich from Texas.  I had the pleasure of meeting Ella at one of the later Bake-Off's and even have a picture of her with my daughter Kristina – but I can't find the photo!  If I find it, I will post it later.  Ella was a sweet and gracious lady who made baking history – and this wonderful cake.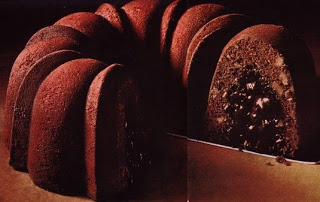 Unfortunately, the original recipe for this cake can no longer be made. The "Double Dutch Fudge Buttercream Frosting  Mix" is no longer available on the market.  Pillsbury had to revise the recipe to fit today's products.  It is said that the cake is not the same as Ella's, but
here is the new version
.  In the October/November 2007 issue of Cook's Country magazine, their test kitchen came up with their own version of the cake, and you can view it online, but you must join the site to see the recipe.  
One thing I miss about the earlier Bake-Off books is that the other prize winners were always listed.  Starting with this book, they are not listed anymore so I am not able to have them for you as in all the previous blogs. However, there will be some blogs in the future where I can list them because either I was there, or I had friends who were there.  But I still have something fun to show you.  Many years ago, I met a woman who had been to three Bake-Off's, and she had old 8mm film reel of parts of this Busy Lady Bake-Off and some other vintage Bake-Off footage.  I had it made into a VHS tape, and recently my daughter Kristina converted it to a DVD – so now I can share it with you!  It's a fun look back at the old Bake-Off's and how much they have changed, yet still in some ways remained the same – except for the hair-do's and clothes, thank goodness!  The Bake-Off is still, and always will be, an American culinary treasure.
To read my previous Bake-Off blogs:
Bake-Off #3: http://su.pr/7VZzZS
Bake-Off #4: http://su.pr/292acQ
Bake-Off #5: http://su.pr/2yOSvP
Bake-Off #6: http://su.pr/28VYBh
Bake-Off #7: http://su.pr/1hk3nb
Bake-Off #8: http://su.pr/22JMGd
Bake-Off #9: http://su.pr/2KkA2E
Bake-Off #10: http://su.pr/8awD1k
Bake-Off #11: http://su.pr/1CmPvD
Bake-Off #12: http://su.pr/3ogo5M
Bake-Off #11: http://su.pr/1CmPvD
Bake-Off #12 http://su.pr/3ogo5M
Bake-Off #13: http://su.pr/1a4HYQ
Bake-Off #14: http://su.pr/3tgiV5
Bake-Off #15: http://su.pr/7tQXBu