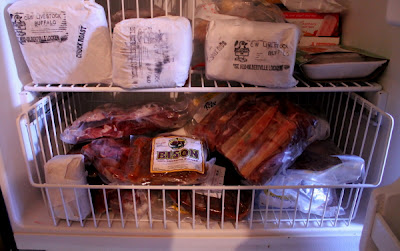 Buffalo, or bison, is my husband Bill's favorite meat.  Last week, he had a job in Iowa and stopped at a free range buffalo ranch on his drive back home.  For him, it was like me and cookbooks – one can never get enough.  Bill called me excitedly from the car on the way home and said, "Guess what I just spent $350 on a few minutes ago?"  I couldn't guess since he was coming from rural Iowa.  Hmmm… corn?  No, that would be a lot of corn.  "Buffalo!" he said.  Okay, that's good, I thought.  I asked him which cuts and he said just about every one I could think of.  He bought ribs (short and back), ground, roasts (rump and chuck), steaks of all kinds, breakfast sausage, brats, barbecue, soup bones, and stew meat.  The photo can't even show it all.  I have the stash in two different freezers. 
Buffalo nearly became extinct back in the late 1800's.  Now they are farm raised on private ranches and number around one-quarter of a million.  Many people are reluctant to try buffalo meat because it is believed it will have a "gamey" taste.  On the contrary – buffalo meat is lighter and sweeter than one would expect, and as a bonus, has numerous health benefits.  It has less fat and cholesterol compared to beef, and is higher in protein and iron.  The downside is that buffalo is more expensive than beef, due to supply and demand.  It is becoming very popular among consumers and restaurants, but the supply is limited.  There are more beef slaughters in the USA each day than buffalo in an entire year. 
The first dish I wanted to make was beef stew.  I have dozens of beef stew recipes, but the one I wanted to make was my mom's recipe from the 1960's.  I can still remember coming home from school and smelling that wonderful aroma the minute I walked in the door.  It's called "5-Hour Stew" and couldn't be easier to make.  The buffalo stew meat was beautiful and rich in color, and I only had to cut off some very small pieces of fat.  My mom happened to call me while I was browning the meat and she said it was going to be on her list of meals to make for next week.  The recipe follows.  My husband's next request is for beef-barley-mushroom soup.  The buffalo soup bones are huge and make the best beef stock.  Anything for my "Buffalo Bill."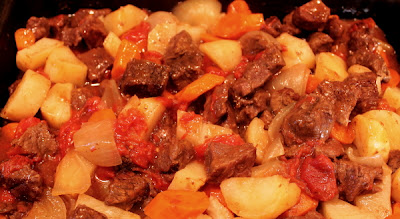 Mom's 5-Hour Stew
2 pounds stewing meat, cut into uniform pieces
3 large potatoes, peeled and cubed
3 large carrots, sliced
1 large onion, diced
1 can (28 ounces) whole peeled tomatoes, drained and coarsely chopped
1/2 cup water
3 Tablespoons Minute Tapioca
1 Tablespoon sugar
Salt and pepper, to taste
1 bay leaf and few sprigs of  fresh thyme (optional- this wasn't in the original recipe, but I added it)
Heat oven to 250 degrees.  Heat some oil in a large skillet or Dutch oven.  When hot, add stew meat; cook and stir until nicely browned.  Remove from heat and stir in all remaining ingredients.  Transfer stew to a large casserole dish with a lid, or you can cover the pan tightly with aluminum foil.  Place covered pan in oven and cook for 5 hours, with no peeking or stirring.  Remove bay leaf and thyme sprigs before serving.