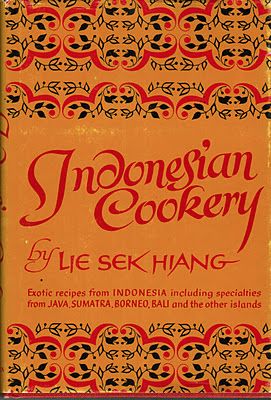 Are you tired of leftover turkey yet?  How about something completely different?  This book is from way back in 1963, and states that it "brings the outstanding recipes of Java, Sumatra, Bali, Borneo, and the other Indonesian  islands to the housewife."  Do you think the "1963 housewife" also tired of Thanksgiving leftovers? 
The author writes that she wanted to make Indonesian food of practical use to Westerners and open up a new world of flavors.  Back in 1963, probably many of the ingredients used in Indonesia were not as easily obtainable as they are now.  In today's market, there is not much that one cannot find.  But even for 1963, some of the recipes sound modern and exotic.  Maybe I was sheltered in my small suburban Chicago town, but I never remember eating mangoes, abalones, fresh cilantro, dried squid, shark's fins, or tahu.  The closest  available exotic food was probably chop suey and egg rolls.  I remember one time my mom made Japanese sukiyaki and I thought it was one of  the most wonderful things I had ever tasted- at least at this point in my young life!  Or another time a Cuban family from our church made us a heavenly arroz con pollo.  (I still have that recipe and still make it!)
The cookbook is divided into many chapters describing the dishes such as Indonesian relishes, tea delicacies, fritters, charcoal grilled meats on skewers, sambal goreng, rice dishes, noodle dishes, soups, egg dishes, meats, and seafood.  In the "general recipes" section is how to make coconut butter, fried onion flakes, omelet slices, roasted shrimp paste, and tamarind juice. Pretty darn exotic for 1963.
There are many recipes that I would make from this book, like the curried shrimp; a crispy spicy beef with hot red peppers; savory coconut fritters; a noodle soup with fried wontons; and a spiced rice with cardamom, cinnamon, and nutmeg.  And if you aren't tired of turkey yet, you can always make the chicken curry and substitute turkey, but since it's not 1963 anymore, you can tell your family you are making "Ajam Kerie."