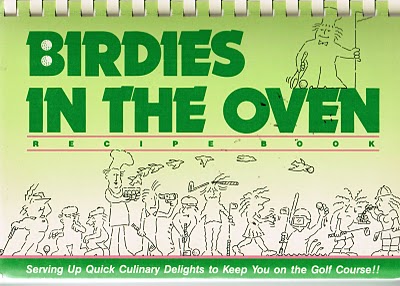 My husband mentioned that the Masters Golf Tournament begins this week, and I remembered this cookbook.  I probably bought it because I had never seen a cookbook pertaining to golf before.  I have some Olympic, football, and baseball cookbooks, usually written for fundraisers, but never a golf one.  And I doubt a Tiger Woods cookbook would do well these days. 
I know nothing about golf, even though I have a lifetime free pass to a local golf course.  Over 25 years ago, my husband was elected a trustee for our village.  Back then when trustees retired, they received a lifetime pass to the pool and golf course in town.  We used the pool pass all the time when our girls were young, but since neither of us are golfers, it has never been used.  I can just hear the groans of those you who golf, thinking that we are nuts not to use the free use of a course anytime we please.  If anyone thinks they can teach me to golf, then maybe I will give it a try!
As you can probably guess, if the title is "Birdies in the Oven," then you won't be surprised to learn that the recipes have names such as, Eagle Day Dinner, Swing into Supper, Tee-Box Trifles, Sandbagging a Super Supper, and Bogey Burgers.  I was expecting the recipes might be as silly as the names, but it has some recipes that are really good.  I made the chili, which is just called chili.  I guess there is no golf innuendo that fits with chili.  It has both ground beef and pork sausage, black olives, and mushrooms.  It serves 16 people so I guess there are golf parties after playing 18 rounds.  There is a menu called "Play a Round and Have a Ball."  Really.  But the recipes were great.  The beef enchiladas and Mexican fried rice were so good, I would make them again.  The Mexican fried rice used Bloody Mary mix.  There was also a marinated Mexican salad to go with it that sounds delicious, but I haven't tried it yet.  It's a homemade spicy sour cream dressing is mixed with avocados, cherry tomatoes, and kidney beans and must marinate in the refrigerator at least 4 hours, then is served on a bed of lettuce and topped with crushed corn chips. 
For such a small spiral book, it's packed with great recipes.  If someone offers to teach me how to play golf, you can borrow the cookbook.