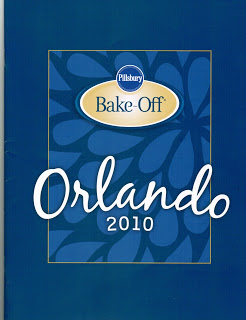 A group of 100 excited contestants will gather next week in Orlando to compete for the $1 million prize at the Pillsbury Bake-Off. The finalists will compete in four categories: Breakfasts and Brunches; Entertaining Appetizers; Dinner Made Easy; and Sweet Treats. The finalists represent 36 states, range in age from 27 to 75, and include 8 men and 92 women.
Working in secrecy behind closed doors, a panel of food experts will taste each recipe prepared by the finalists and select the one-million-dollar winner. You can go to the
Bake-Off site
and read about the contestants and their recipes. Can you spot the winner?
There is something new and exciting happening at this year's Bake-Off that has never happened before! In past Bake-Off's, the top category winners gather on stage and one of the category winners is named the winner of the Bake-Off. This year, the category winners will leave the stage, get a plane to Chicago, and go on Oprah! That's because Oprah herself will announce, live, the winner of the million dollars! Can you even imagine the anticipation and excitement of the finalists?
I am thrilled to say that I will be at the Bake-Off with both of my daughters observing all the fun and excitement and will report back to you, my readers. I can't wait to tell you all about it. Watch for my blogs about the contest sometime next week, and then tell me what you think about the winning recipe! And don't forget to watch Oprah on Wednesday, April 14th to see who is our newest millionaire!