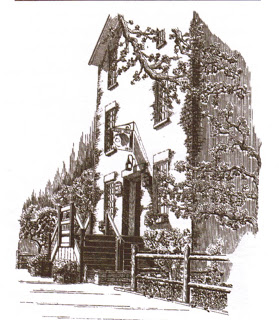 Instead of a cookbook today, I want to tell you about an amazing place from the Chicago area that has what many consider to be the best stoneground cornmeal and whole wheat flour in the country.  This is Graue Mill in Oak Brook, Illinois, not far from Chicago.  If you are ever in the Chicago area or live somewhere around here, then you must make it a fun weekend visit.  It is the perfect time of year to go with the color changes and cool weather.  The mill is only open until mid-November so hurry and go!  I grew up near the mill and my grade school had field trips there often, so I have fond memories of visiting.  Last weekend, we found ourselves only a mile away from the mill when I convinced my husband to make a small detour and go, even though they were closing in twenty minutes.  There was no time to enjoy the beautiful grounds or visit the museum, but I just had to get a couple bags of the cornmeal and whole wheat flour. 
A visit to the mill begins by watching a white-aproned miller demonstrate the basic milling process using Frederick Graue's original 150-year-old buhrstones.  The four story building houses a collection of artifacts from 1850-1890.  You will see volunteers dressed in period clothing demonstrating the art of spinning and weaving, and will talk to you about the days gone by when the mill was in its early years of operation.  There is an exhibit about the Underground Railroad, as Graue Mill's cellar provided a hiding place for runaway slaves.  It was a regular stop for those on their journey of freedom to Canada.  President Abraham Lincoln even visited the mill.  The mill became an established part of the community, not just for grinding the grain of local farmers, but for making syrup during the Civil War and pressing apples for cider.  The mill is a fine example of Italianate architecture and is listed in the National Register of Historic Places.  It is also recognized as an Illinois Historic Mechanical Engineering Landmark by the American Society of Mechanical Engineers – the only gristmill so designated on a national or local level, representative of an important technology and era in the history of America.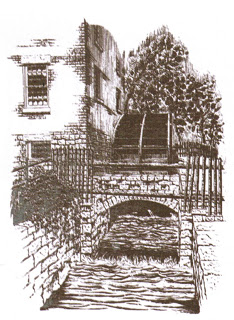 There is a gift shop with an array of items including books, children's toys and games, and the many hand-crafted products made by volunteers.  On weekends, there are special events such as history presentations, visual and performing arts, and craft shows.  Or just sit on a bench in the beautiful, peaceful grounds and watch the water wheel turn.  Just don't forget to take home extra bags of cornmeal and flour.
Visit Graue Mill's website at http://www.grauemill.org/   or find them on facebook at