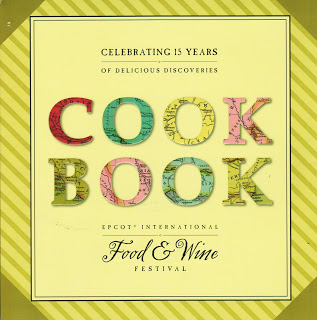 One of our hosts, and cookbook author, Pam Brandon, told us that one of the most popular dishes of the Epcot festival is the Canadian Cheddar Cheese Soup, which is in Pam's fabulous cookbook of the Epcot International Food and Wine Festival.  This book is a keeper!  So many great recipes!
CANADIAN CHEDDAR CHEESE SOUP
1/2 pound bacon, cut into 1/2-inch pieces
1 medium red onion, cut into 1/4-inch pieces
3 celery ribs, cut into 1/4-inch pieces
4 Tablespoons butter
1 cup all-purpose flour
3 cups chicken stock
4 cups milk
1 pound grated white cheddar cheese
1 Tablespoon Tabasco sauce
1 Tablespoon Worcestershire sauce
Coarse salt and freshly ground black pepper to taste
1/2 cup warm beer
Chopped chives or green onions, for garnish
1.  Cook the bacon, stirring, over medium heat for about 5 minutes, or until lightly browned, in a 4 or 5-quart Dutch oven.
2.  Add the red onion, celery, and butter, and saute until the onion has softened, about 5 minutes.
3.  Add the flour and cook, stirring constantly, for about 4 minutes over medium heat.  Whisk in the chicken stock and bring to a boil for 1 minute.  Reduce heat to a simmer and cook for 15 minutes, stirring occasionally.
4.  Add the milk and continue to simmer for 15 minutes.  Do not boil after you add the milk.
5.  Remove from heat and stir in cheese, Tabasco sauce, Worcestershire sauce, salt, and pepper, until the cheese is melted and the soup is smooth.  Stir in warm beer.  If the soup is too thick, thin with a little warm milk.
6.  Serve the soup hot, garnished with chopped chives or green onions.  Serves 10.