If you live in or around a large metropolitan area, you learn to avoid trucks at all costs on the highways.  But not this truck.  Not a truck named "Sugar," aka, "The Treats Truck."  This is a truck you want to find and follow. 
The happy face you see hanging out of Sugar is Kim Ima, or to New Yorker's, "The Treats Truck Lady."  Or how about "Mom of Sugar!"  Kim's luscious treats have won the "Vendy Award" for Best Dessert Vendor, and was the first food truck to serve only desserts.  The treats are baked in Brooklyn, then head out to neighborhoods in the boroughs of New York.  In Midtown Manhattan, the choice of favorite treats is a peanut butter and jelly sandwich cookie, while the Upper West Side prefers a sugar cookie with sprinkles, and caramel cremes. 
Kim says she believes in treats; in those little moments in the middle of an ordinary day when you can treat yourself to a cookie.  "Cookies might just be one of the best inventions on earth," says Kim.  "A cookie can really brighten up a day or be the best gift ever." 
You will find cookies and much more in Kim's delightful new cookbook.  Besides every kind of cookie recipe from chocolate chip to pumpkin swirl, other recipes include brownies, cakes, cupcakes, pies, frostings, fillings, toppings, and specialty items such as dessert nachos, cake "sandwiches," strawberry shortcake, ice cream pies, and hot chocolate.  There is something for everyone.
When our local library decided to host Kim this past Wednesday for one of their programs, I called immediately and signed up.  I also called my friends Mary and Lyn to see if they wanted to go, too, for a fun girls night out.   The place was filled to capacity, and we all had a great time listening to Kim's stories and advice.  As she was speaking, Kim was preparing treats for the audience.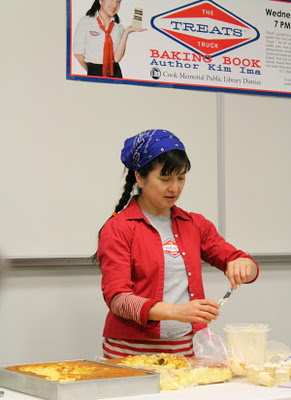 Kim is placing frosting in mini ice cream cones.  Next comes a piece of cake, topped with more frosting, and then covered in sprinkles.  Adorable – and delicious.
Another delectable treat she passed around was "Pecan Butterscotch Bars," which tasted similar to a butterscotch brownie, but better.  As everyone swooned over the desserts, Kim took questions from the audience.  Many questions were about the business of owning a food truck, how she developed her ideas, how many hours she worked, what was her favorite recipe, and everything in between.  When Kim mentioned she loved collecting cookbooks, of course I couldn't resist asking her a question.  I told her I was a collector myself and wondered how she felt about having a cookbook to hold in your hands versus finding recipes online, a question I am asked frequently.  I was elated when she spoke exact words that I have said many times myself – of how nothing compares to cooking from a book that has splattered pages from use, or finding long lost treasures between the pages, like an old grocery list from her Grandmother- and reasons why you should buy this cookbook.  It has great recipes, wonderful stories and photos, and as you read through the lines, it is evident that Kim has put her heart and soul into it.  It's a book you will treasure, and it will someday have many splattered pages.
Everyone was able to buy copies of Kim's book brought in from nearby Lake Forest Book Store, and then have Kim autograph it for them.  What would we do without libraries and local bookstores?
My beautiful friends, Mary and Lyn
After Kim signed my book, she handed me the above card.  I told her my youngest daughter lived in New York City, and next time I visited, I would find her truck.  Kim hands out these cards because after one accumulates ten punches in the card from purchases, you get a free treat.  She punched out all ten holes, which means I get a free treat right away!
Next time you are in New York City, find Kim and "Sugar."  And if you see me with my punched card getting a free treat, maybe I will share it with you… maybe….