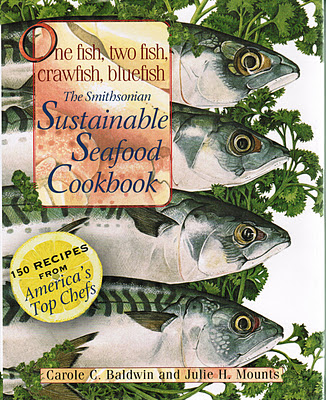 After viewing Julia Child's kitchen at The Smithsonian last summer, the first place I headed for was the museum's gift and bookstore.  The selection of cookbooks in the store are inspired by American kitchens and the sale of the books support the educational purposes and activities of the Smithsonian Institution.  There you will find Julia's books along with other celebrity chefs and many more.  Since I love seafood, it was one of the first ones I picked up from the cookbook area.  Not only that, it has an appealing title and recipes from such great chefs as Rick Bayless, Jacques Pepin, Mario Batali, Thomas Keller, Alice Waters, Ming Tsai, Norman Van Aken, Charlie Trotter, and many more.  But most importantly, the book helps make us informed cooks to make a difference in the purchase of sustainable fish.
Authors Carole Baldwin and Julie Mounts not only bring marvelous recipes to try at home, but also help us to be environmentally aware consumers.  Dr. Baldwin is a marine biologist at the Smithsonian and the star of the IMAX film, "Galapagos," and Julie is a research assistant.  The book informs, educates, and inspires us to cook wonderful dishes, and at the same time, save our fish and oceans.  Overfishing has led to the depletion of once abundant fish and shellfish, yet we still want to enjoy the healthy choice of seafood in our meal planning.  The book spells out what species from which oceans are considered sustainable and why.  There are lists of environmentally sound choices, some fascinating fish facts, and ways to make our choices into delectable meals.
Each recipe lists the scientific name for the fish used, the U.S. distribution, seasons when available, what to look for in purchasing, and cooking methods.  The recipes are some of the best you will ever find for seafood.  Chef Chris Hastings from Alabama offers an unusual Southern-style bouillabaisse using crawfish, stone-crab claws, mussels, clams, scallops, and bass.  Chef Tory McPhail from New Orleans has a crawfish cognac with andouille grits.  From Montana, Chef Dan Shapiro makes rainbow trout tacos with a corn relish and avocado sauce.  Alice Waters stole my heart with a slow-cooked King salmon with a Meyer lemon relish and an herb sauce.  I am only touching on the magnificence of this cookbook.  It needs to be in the kitchen of everyone who loves seafood, and everyone who wants to help save our precious oceans.
Julia Child's kitchen at the Smithsonian