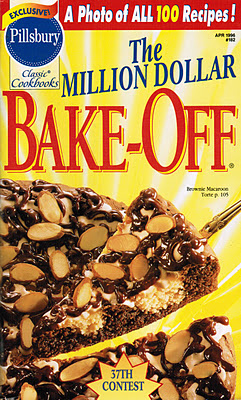 I can still recall someone telling me that the 37th Bake-Off grand prize would be one million dollars. One million dollars.  I thought it was a joke.  No cooking contest has ever come close in prize money.  The iconic Pillsbury Bake-Off has continuously captured America's attention since 1949, but now all bets were off.  American cooks headed to the kitchen to start cooking, each with the full intention of becoming a millionaire.  And why not?  The odds were good-  only one hundred contestants- and one would become an overnight celebrity with a million dollars.
One of these potential millionaires was Kurt Wait from Redwood City, California.  Kurt liked baking desserts for his then eight-year-old son, Cy, because Cy loved licking the bowls and spoons.  Kurt had been a devoted fan of the Bake-Off for years, and grew up enjoying his mother's pies, cakes, and cookies.  When he was in college and cooking on his own, Kurt bought his first springform pan when the "Almond-Filled Cookie Cake" won the Bake-Off in 1982, and bought his first bundt pan to try the famous "Tunnel-of-Fudge Cake" from another Bake-Off contest. 
Kurt, who worked in marketing, credits his marketing instincts and his son's love of desserts for his torte's success.  He picked chocolate for its popularity, macadamia nuts for their beauty, and Cy encouraged Kurt to enter the macadamia torte because of the tasty sauce served with it.  I think they made a good choice, wouldn't you say?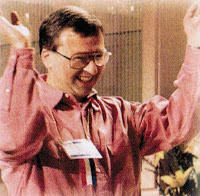 A million dollar smile!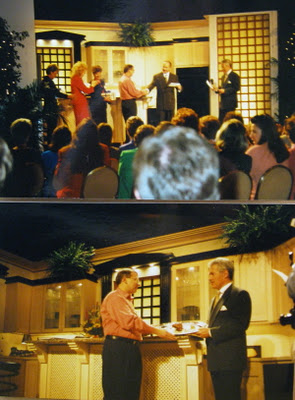 Kurt with host Alex Trebeck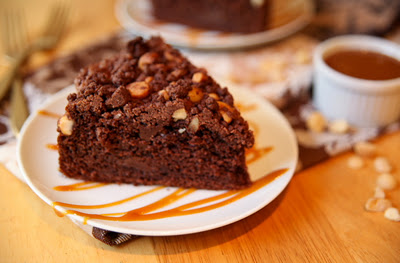 The beautiful winning Macadamia Fudge Torte!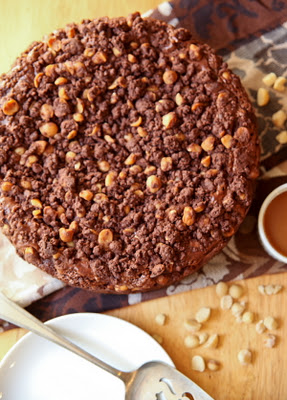 The torte is simply fabulous and one of my favorites.  Since no one can tell the story of the first million dollar Bake-Off than Kurt himself, here is his memory of being not just the winner, but the first male to ever win the Bake-Off! 
"I started entering the Bake-Off for the 1994 contest and put a lot of effort into my entries, but failed to get invited, so I was really excited when I got the call for the 1996 Bake-Off in Dallas.
I must have practiced making my entry 15 times or more in preparation for the 37th Bakeoff. By the time I headed off to Dallas, it was getting to the point that my neighbors had eaten so much cake they wouldn't answer the door anymore.
My sister Virginia, who is always up for a fun trip, attended as my guest. What stands out in my mind about the first part of the contest was meeting so many people whose names I recognized but had never met. Gloria Bradley, Edwina and Bob Gadsby, Virginia Moon, Linda Morten, and Mary Hawkes were all there. I also had a chance to see old friends like Roxanne Chan. It was fun to talk about contests, recipes, and families.
About the cooking itself, I remember being really stressed. I'd practiced my recipe lots of times but never in a huge ballroom with 99 other people or with a strange oven and with all sorts of people walking around asking questions. When my first cake came out of the oven I looked at it and thought "boy, this is an also ran". The top was scorched.
Now that I was getting more used to the oven and the surroundings I went to work on my second attempt. To my relief, this one turned out fine. After preparing my presentation plate and carefully walking though the cooking area and delivering my dish to the judges, I was completely drained and didn't even start a third cake. I went to the buffet lunch and chatted with the Gadsby's to relax.
Next came the awards ceremony. I was in Special Occasion Desserts, the last group to be called. After the first three category winners were announced I was thinking that it had been fun, but as luck would have it my name was the last one announced. Number 16 out of 16. Pretty lucky. Next the $10,000 winners were announced and walked up to the stage. Again, I was the last one called.
The four category winners were on the stage and Alex Trebeck was keeping the suspense high. Finally a covered silver platter was brought to the stage. Before the lid was half off I recognized my cake. What a stunning surprise!! The rest was kind of a blur. I remember answering questions on the stage and being escorted around but what I remember most were the muscle cramps in my cheeks from smiling so much.
I was whisked off along with my sister Virginia to New York for a whirlwind media tour including an appearance on Good Morning America. I also went on Jay Leno a couple of days later and found out actor Anthony Hopkins loves chocolate cake. The Bake-Off will always stand out as one of the great highlights of my life and I'll never forget it."
I also wondered what this Bake-Off would have been like for the other contestants, since the million dollars was at stake.  Can you imagine the stomach jitters of every contestant sitting the audience waiting to see if they had won a million dollars?  I asked several of the contestants sitting there that very day about their experiences: 
From contestant Edwina Gadsby:
"The 37th Bake-Off was the first time I had ever entered the Pillsbury Bake-Off, so to say I was more than a little surprised to receive the call telling me I was a finalist, is an understatement. A relative newbie at recipe contesting I had no idea what to anticipate. Let's just say it definitely exceeded all my expectations.
The Fairmont Hotel in Dallas was beautiful and the welcome dinner that evening set the tone for the entire contest. Each and every finalist was made to feel like a million bucks. One of the highlights of the dinner was an incredible 7-layer Texas fudge cake, and all the contestants at my table commented we were glad we wouldn't be competing against it the next day. It brings a smile to my face to think the million dollar winner turned out to be another incredible chocolate cake.
After a tiring day on the Bake-Off floor we were whisked away to our own private "dude ranch," complete with a down home barbecue, Texas line dancing and armadillo races. There was also the "photo op" sitting astride the live Longhorn bull, which my husband repeatedly encouraged me to do, and I repeatedly declined. After conceding it wasn't going to happen, he wandered off to get the inside scoop on what is required to become an armadillo wrangler. All in all, the perfect remedy after a stressful day.
Alex Trebek hosted the live televised event and being a Jeopardy fan, it was fun to have the opportunity to meet him.
Here's a trivia question for you in case you ever appear on the show:
Question: Alex's mother used to make this for him on his birthday.
Answer: What is the Tunnel of Fudge Cake?
After all these years, what truly stands out to me is the friendships I made at that Bake-Off and that they endure to this day. While my "Pineapple Galette with Caramel Rum Sauce" was not in the money, I feel like I won the grand prize having gotten to know and now call friend, Pat Harmon, Mary Hawkes, Roxanne Chan, Julie DeMatteo, Loanne Chiu, Mary Lou Cook, and Kurt Wait."
From contestant Mary Hawkes:
"One hundred finalists. One million dollars. The excitement was palpable—100 finalists, each hoping to be the one to win the Pillsbury Bake-Off with the first ever million dollar prize!
I had entered the Bake-Off every contest year, since I was 10 years old. Other little girls were dreaming of being ballerinas or veterinarians, but I wanted to be at the Pillsbury Bake Off. Let's just say that a couple of decades passed before one of my recipes was chosen. (Yes, perseverance does pay off!) But this Pillsbury Bake-Off in Dallas would be a bittersweet one—it was my third time as a finalist so I knew I could not participate in another.
Nothing compares to a Pillsbury Bake Off—the sights, sounds, action, the media, the cameras, and 100 people busily cooking at their kitchen areas. And this Bake Off was no different—except that it had a MILLION riding on it…
That Grand March into the ballroom on the morning of the Bake Off—what an experience! We marched to our stations, and soon afterwards fragrant aromas filled the air. I worked at my kitchen area, and the dishes that everyone was preparing around me looked so good.
I didn't know that I would have to guard my entry, "Banana Chocolate Brunch Cake" with my life! (Well, I am exaggerating here…) After preparing my first and then my second cake, I still was not satisfied. The topping was not crunchy looking enough, the second didn't raise as much as I thought it should, so I sent those to photography and one for tasting. So the third attempt would be my entry to the judges—no matter how it turned out.
So my third cake was cooling on a rack at my station—I was just going to wait a few more minutes until I took it to the judges. I was standing a few feet from my range, when a camera crew carrying a very large boom traveling at a fast clip, walked between me and my prep area. As they started to pass by, the boom started to come down with the very large microphone headed right for my cake! I made a mad dash to move it, hoping the boom wouldn't hit me! Luckily I saved the cake.
One evening the Pillsbury folks had planned a wonderful cook out under the stars. The food was great, entertainment toe-tapping, and the armadillo races a real hoot! Hoping my armadillo would win, I remember how hard it was to hold onto that little feller until the bell rang for me to let him go to run his race! (He was really strong and didn't want anyone touching him!)
I remember during the competition seeing Kurt carrying his torte—and I remember thinking "That's going to be hard to beat—it looks beautiful!" And that torte did indeed win the Grand Prize.
But the Bake Off is not just about competing or winning a prize—it's about the people and the friendships that you form in the hubbub of the event. I remember chatting with so many wonderful people—what a pleasure it was to share in this great event."
From contestant Pat Harmon:
"The 37th Pillsbury Bake-Off in 1996 was my first experience as a finalist in a major contest competition. When I received THE call, I was overwhelmed that I would be competing for the first $1,000,000 prize ever given at this contest. Even though I didn't think for a minute that my Toffee Apple Coffee Time Bars would be the winner, I was sooo excited to just be there and participate in this renowned contest that I was familiar with since my teens.
It was before the Internet was as prolific as today so there wasn't a way to try to meet others who are now known contesters unless by a chance meeting. Even though I have participated in a dozen cook-offs, I think this stands out to me as one of the most memorable in my years as a recipe contester."
From contestant Roxanne Chan:
"I had been entering Pillsbury since 1984 when I began to enter national contests. I never felt comfortable about creating recipes with the processed products as that is not my style of cooking so resigned myself to never getting to the big dance. Then Pillsbury introduced more savory products to choose from and I had renewed hope. It was such a thrill to get that first call. I was lucky to have entered a couscous recipe just as it became the in grain. As you probably already noticed there were several couscous recipes as finalists in 1996 and of course the next GP winner featured couscous. The whole experience was like a dream come true- the beautiful hotel, the incredible food,the wonderful excursions, the friendly people( Mary and Reed Hawkes and MaryLou Newhouse helped calm my nerves), the huge gift bag. And then the big event itself- so exciting. And of course I knew the GP winner! I guess like any other first time experience it is the one that always stands out. It took me 10 years to get back then the 3rd was the very next one. I was more relaxed and had more fun at the other 2 but the first Bake-Off is the experience I remember in detail and relive the most in my mind."
It's such a joy to read about the experiences of the contestants, and I thank all of your for your memories.  This Bake-Off will go down in history as the first million dollar contest, the first male winner, and one of the best recipes ever to win the Bake-Off.  And – Kurt is one heck of a nice guy, too!
 
To read more about the Pillsbury Bake-Off go to http://www.bakeoff.com/ 
To find the recipe for "Macadamia Fudge Torte" go to http://su.pr/1t9pkp
Photos of the "Macadamia Fudge Torte" are by my daughter, Kristina Vanni. Visit her blog at: http://www.betterrecipes.com/blogs/daily-dish
To read all my previous Bake-Off blogs:
Bake-Off #1: http://su.pr/7gmylO
Bake-Off #2: http://su.pr/2zgjZn
Bake-Off #3: http://su.pr/7VZzZS
Bake-Off #4: http://su.pr/292acQ
Bake-Off #5: http://su.pr/2yOSvP
Bake-Off #6: http://su.pr/28VYBh
Bake-Off #7: http://su.pr/1hk3nb
Bake-Off #8: http://su.pr/22JMGd
Bake-Off #9: http://su.pr/2KkA2E
Bake-Off #10: http://su.pr/8awD1k
Bake-Off #11: http://su.pr/1CmPvD
Bake-Off #12: http://su.pr/3ogo5M
Bake-Off #13: http://su.pr/1a4HYQ
Bake-Off #14: http://su.pr/3tgiV5
Bake-Off #15: http://su.pr/7tQXBu
Bake-Off #16: http://su.pr/9nPW7c
Bake-Off #17: http://su.pr/9WIaqm
Bake-Off #18: http://su.pr/6MMS45
Bake-Off #19: http://su.pr/2A7GXI
Bake-Off #20: http://su.pr/2MwjlD
Bake-Off #21: http://su.pr/1nIgIJ
Bake-Off #22: http://su.pr/1nkUgJ
Bake-Off #23 http://su.pr/20jQDK
Bake-Off #24 http://su.pr/AMfFSj
Bake-Off #25 http://su.pr/4btzLZ
Bake-Off #26 http://su.pr/2sJrvp
Bake-Off #27 http://su.pr/9cG4B1
Bake-Off #28 http://su.pr/24CMm0
Bake-Off #29 http://su.pr/8th5eg
Bake-Off #30 http://su.pr/AUUGkZ
Bake-Off #31 http://su.pr/9j9TQ6
Bake-Off #32 http://su.pr/76Fl0s
Bake-Off #33 http://su.pr/26Q4KJ
Bake-Off #34 (part 1) http://su.pr/3TlcVI
                      (part 2) http://su.pr/7suCub
Bake-Off #35 http://su.pr/1lZC8X
Bake-Off #36  http://su.pr/1Ogl7Q 
Here are the other prize winners of this Bake-Off:
30-Minute Main Dishes Recipe Category:
$10,000 winner:  Linda Morten – Cowboy Steak 'n Veggie Soup
$2,000 winners:    Loanne Chiu- Southwest Tortellini Chowder
                            Greta Eberhardt- Fiesta Chicken Salad
                            Virginia Moon- Black Bean Mole and Coconut Couscous
Special Side Dishes and Simple Breads Recipe Category:
$10,000 winner:  Frances Neavoll- Orange-Glazed Tropical Fruit Scones
$2,000  winners:  Linda Greeson- Hungry Jack Biscuit Mini Focaccia
                           Christina Hurst- Savory Mashed Potato Pie
                           Thelma Zieammermann- Apricot Pecan Hungry Jack Biscuit Pull-Apart
Quick Treats and Snacks Recipe Category:
$10,000 winner:  Joyce Bowman- Quick Apple Cranberry Pear Muffins
$2,000 winners:  Karla Kunoff- Sugar-Crusted Almond Pastries
                          Teresita Larcina- Walnut Date Snack Bars
                          Agatha Roth- Choco-Nut Sweet Treats
Special Occasion Desserts Recipe Category:
$10,000 winner-  Kurt Wait- Macadamia Fudge Torte
$2,000 winners:   Mary Lou Cook- Apple Nut Cookie Tart
                           Beverley Ann Crummy- Chocolate Swirl Coconut Almond Tart
                           Julie DeMatteo- Caribbean Truffle Pie