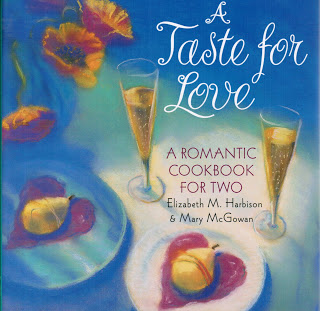 I found this little cookbook last weekend at a local book sale and almost didn't buy it.  Upon further inspection, I read the bio of the authors.  One of them married the grandson of one of the most prominent caterers in Washington, D.C., and learned some of the trade secrets that pleased the palates of four US Presidents.  With these credentials, and after watching John Travolta and Olivia Newton-John sing "Summer Nights" for the hundredth time, I thought there might be a blog idea about summer loves, and how we cook for them.  There are some very nice recipes in the book, including a couple that caught my eye because they were for zucchini, of which I have an abundance in my garden. 
The authors state that food is truly one of the world's most sensual pleasures.  Lovers have enticed their mates with a range of culinary delicacies.  In this spirit of romance, the book offers eight chapters of recipes chosen for their flavors, scents, texture, and seductive appeal, including breakfast in bed, perfect picnics, songs of the sea, and sitting by a glowing fire.  Each section includes everything from appetizer through dessert, beverage suggestion, and even a poem to read, if your heart desires.  There is one meal called "Lobster Celebration" that is dear to the heart of one of the authors, as she became engaged after preparing this meal for her future husband.  Each recipe also includes setting the scene for romance through music and table decorations.  And if you are curious, here is how to say I love you in various languages:
French:  je t'aime
Spanish:  te amo
Italian:  ti amo
German:  Ich liebe dich
Hawaiian:  Aloha Wau Ia Oe
Gaelic:  Thaim in Grabh Leat
I remember my first summer love very well and what I made him for dinner.  I was a freshman in high school, the time when many young girls think they found the love of their life.  My first love was a great guy, and we remained good friends until he died a few years ago.  Back in the sixties, one food product that was heavily advertised was Shake 'n Bake chicken.  My boyfriend LOVED it, so as you can guess, that was my first romantic dinner I ever made.  Not so romantic, of course, but he thought I was wonderful.  We ate out on a balcony at my house, with candles and all, swatting mosquitoes, but not caring so much about them.  Later in the summer, while he was helping me paint my room a lovely shade of blue, he went into the walk-in closet with his paintbrush and wrote I Love Debbie on the wall.  I decided not to repaint that spot, of course.  Years and years later, I happened to run into the person who bought that home when we moved.  When I told him my name, he said, Oh, my!  Are you the Debbie who someone loved in the closet?  After I stopped giggling at the way he said it, I admitted, yes, I am that Debbie.  He told me that when he and his family moved in, they couldn't bear to paint over it because it was so sweet.  For all I know, it's still there.  How is that for romance?