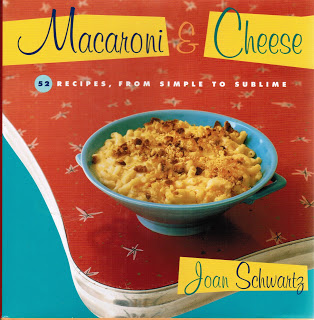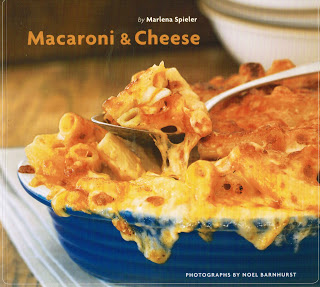 To many, it is the quintessential comfort food.  If there were such a thing as a drive-through mac and cheese establishment, it would probably rival the burgers and fries.  The love of mac and cheese starts in childhood and continues through adulthood.  For some, it is even a staple at Thanksgiving right along with the stuffing.  Gifted chefs will come up with new ways to prepare the classic dish.  In the top book pictured above, there are inspired versions of mac and cheese with such additions as duck, chanterelles, prosciutto, artichoke hearts, truffles, lobster, crab, oysters, goat cheese, or foie gras. 
I was not surprised to read that our gourmet third president, Thomas Jefferson, took his cook with him to Paris so he could study European cuisine to bring back to the White House.  One dish that Jefferson was taken with was a version of mac and cheese.  To replicate it back home in the states, Jefferson brought back a pasta rolling machine and Parmesan cheese, and he put mac and cheese on the White House menu. Along the journey of American cookery, mac and cheese always popped up in various forms, depending on the region and the ethnic group preparing it.  If you love mac and cheese in every way, shape, and form, then you will love both of these books.
Since there are hundreds of shapes of pastas, and thousands of cheeses, there is a version of mac and cheese for everyone.  But there are some whose favorite version comes out of a box.  Many companies make mac and cheese, but I would like to tell you about one that is made right here in my hometown.  It's Fould's Macaroni and Cheese, made in a small factory five minutes from my home.  Many years ago, Kraft used Fould's factory for production of their famous blue box.  Now Fould's has their own version and I would love for you to try some -it's the best!!  I happen to have a few boxes in my pantry at the moment that I want to give away.  Email me at [email protected]  and leave me your name and email address by midnight CST this Friday, November 19th, and I will randomly draw a winner.