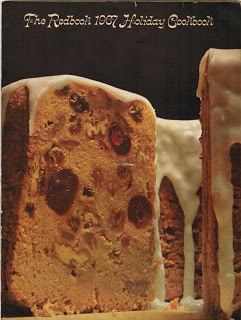 I love the extra bonus packet of recipes that magazines sometimes include in  monthly issues, or they offer a free bonus booklet if you renew your subscription.  I have saved these two from the late '60's and they are still favorites that I browse through every Thanksgiving and Christmas.  The eggnog in the Reader's Digest issue is hands down, the best I have ever tasted.  It is massively decadent, but with one sip, you are hooked.  I would gladly skip all the appetizers and dessert just to drink this eggnog.   There are two of my must-make cookies in this booklet.  One is an orange-scented cut-out sugar cookie, which is then brushed with an egg yolk wash and sprinkled with a sugar-orange rind-chopped pistachio mixture.  The other is an interesting version of the classic no-bake rum balls with crushed vanilla wafers, which instead uses shortbread crumbs and tangerine juice. 
The 16-page Redbook booklet says that it was written especially  for the "18 to 34-year old married woman, because they believe in us."   I am now well over that age group and I still love the recipes.  Most of the recipes are classic fare such as an excellent French Onion soup that I have made many times;  a roasted chicken with a marinade of herbs and dry sherry; a wonderful turkey hash using leftover Thanksgiving turkey; and a decadent yule log with mocha buttercream.  There is a special section of 25 family favorite holiday recipes from food editors across the country. 
So speaking of these great magazines and bonus cook booklets, I am giving similar ones away this week!  Read the next blog below and see what you could win.  And you don't have to be 18-34!