At dinner last night, I was pondering which cookbook to write about for today.  There were about a dozen books scattered on the table that I was contemplating.  My daughter Kara chimed in and said, "Why don't you write about Ray Romano's cookbook?"  Confused, I told her I didn't know he wrote a cookbook.  "It's right in front of you," she said.  She was across the table and the book was upside down, so she thought Martin Yan was Ray Romano.  I guess he does look a little like Martin, although I don't know if Ray cooks.  But Martin most definitely cooks. 
When this cookbook was published in 1991, Martin had been teaching us all to cook on his very popular television series, "Yan Can Cook."  I loved that show as did so many people.  I found this book at my favorite library sale and realized it was one I didn't have, plus there was even a bonus –  it was autographed by Martin.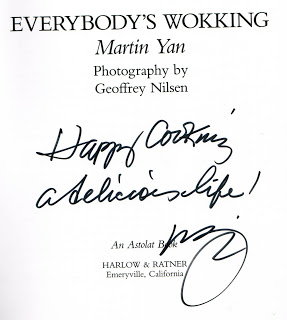 I decided to dive right into this book after reading all the great recipes.  I started out with the "Chiang Mai Lettuce Cups."  Heavenly.  The first part of the recipe is frying 2 Tablespoons of uncooked rice with 2 Tablespoons of vegetable oil until  it is toasty brown.  After cooling, the rice is put into a spice grinder and ground to a fine powder.  It is eventually stirred into the filling of ground beef, shallots, green onion, fresh mint, cilantro, crushed red pepper, lime juice, fish sauce, and a little sugar, then piled into lettuce cups.  The ground toasted rice added such a unique flavor.  I will be making this again and again.  A few days later was the "Cantonese Roast Chicken with Honey-Hoisin Glaze."  Also heavenly.  I served it with Martin's vegetable fried rice (although I added more mushrooms).  I also made it a point to save 2 cups of the roast chicken meat so I could make the "Chinese Chicken Salad with Glazed Walnuts," which was a huge hit at dinner a few nights ago.  I posted on my facebook page about how much I loved these recipes, and someone wrote back to me about the lemon chicken and the spiced orange pork chops.  Of course, now I have to try those, too. 
Needless to say, I am completely sold on this book.  I have post-its sticking out all over.  So back to Ray Romano.  As I was writing this, I decided to google and see if Ray actually does like to cook.  I couldn't find much, but I did find that he told Good Housekeeping magazine he loved brownies and gave them this recipe: 
Everybody may love Raymond, but everybody also loves Martin.  Me included.