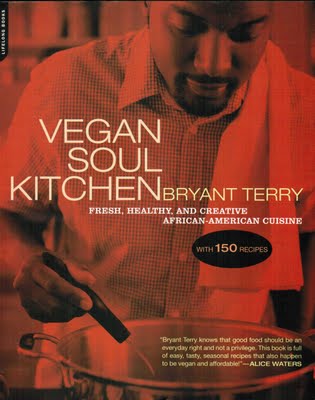 I am a carnivore.  I can't imagine life without grilled salmon, roast chicken, or a big juicy steak.  My thousands of cookbooks are arranged by subject – beef, pork, chicken, fish, eggs, cheese, and just about any food you can imagine-  except vegan.  I do not own one vegan cookbook.  Well, I think it's about time.  I found this book last week and I must admit what caught my eye at first was not that it was vegan, but that there is a quote by Alice Waters on the cover.  Since Alice Waters is a legendary food goddess, I knew I had to pick it up. 
I thought I had a completely open mind about food, but then again I guess I don't since there is not even a single vegan cookbook on my shelves.  I have lots of vegetarian cookbooks – and I love them and use them.  I have vegetarian meals during a week's time and even make meatless meals for my carnivore husband and he doesn't miss the meats.  But vegan?  I picture tofu on a daily basis, and I hate, hate, hate tofu.  I have tried it every way possible and have yet to find a recipe that makes me want to make it again.  If someone out there has a great way to use tofu that I will never know it's tofu, then please send it to me.  I promise I will at least try it.
At one time, author Bryant Terry gorged himself at all the fast food chains.  During college he says his body started telling him to make a change and take a break from meat and dairy.  However, he did not want to eliminate the foods of his cultural heritage, African- American and Southern cuisine, so he decided to start his changes with collard greens.  Instead of cooking them to death, Bryant decided to blanch the greens, drain and shock in cold water, then quickly saute in olive oil, garlic, and sea salt.  Many other recipes followed such as black-eyed pea fritters, crispy okra strips with lemon-thyme vinaigrette, and maple-yam ginger pie.  The recipes are so good that they have been featured in Gourmet, Food and Wine, and the New York Times Magazine.  
So, okay.  I am very happy to have this cookbook and will definitely try some of the recipes, although I don't expect I will ever become a vegan.  I will even seek out some more vegan cookbooks for my collection.  But don't expect me to try the "Rosemary-Roasted Tofu Cubes"… unless they are accompanied by a side of shrimp.