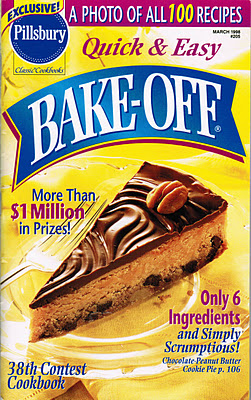 Ellie Mathews from Seattle, Washington wanted to dream up something to do with a can of refrigerated biscuits that no one had tried before.  What would happen, she wondered, if she boiled a tube of refrigerated biscuits. Why not? After all, bagels are boiled before baking them, right?  Don't try it, she advised.  But it's a good thing she tried, because after that experiment, a million dollar recipe was born. 
Ellie prefers to keep her cooking simple.  "I typically buy ingredients that look good and wrestle them into a pan and serve a meal," she related in an interview a few years ago.  "I don't do a lot.  I'm not a fussy cook.  I don't put four kinds of sea salt into something or 18 different kinds of vinegar or whatever.  I wouldn't say I'm a plain cook, but I'm fairly practical." 
Initially, Ellie thought her winning recipe, "Salsa Couscous Chicken," would be a way for her to hopefully make it to the Bake-Off with the idea of being "in training" so she could get a feel for how the contest worked, so she could "go back another time in earnest." Instead, Ellie nailed it on her first try.  The dish is easy and delicious, using couscous, a trendy item at the time.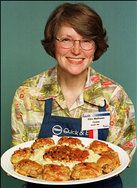 Ellie and her million dollar dish!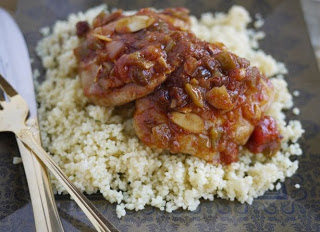 Ellie is a former cartographer and graphic software designer, and proud mother and grandmother.   She is also an award-winning author, one book being about her experience at the Bake-Off titled "The Ungarnished Truth:  A Cooking Contest Memoir."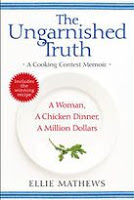 Ellie was featured on "Oprah," and "The Rosie O'Donnell Show," along with other appearances preparing her now famous dish.  Here is a link to a fun and interesting interview with Ellie on NPR: 
Here are the other prize winners for each category:
30 -Minute Main Dishes:
$10,000 winner (and grand prize) Ellie Mathews- Salsa Couscous Chicken
$2,000 winners:
-Westy Gabany- Chicken Salad Focaccia Sandwiches
-Debbie Powyszynski- Speedy Spinach Squares Alfredo
-Ellen Nishimura- Seven-Layer Chinese Chicken Salad
Simple Side Dishes:
$10,000 winner- Betty Schroedl- Texas Two-Step Slaw
$2,000 winners:
-Ellen Marie Anders- Broccoli and Corn in Gingered Curry Cream
-Jennifer Morten- Nicaraguan Red Beans 'n Rice
-Dorothy Crow- Sherried Mushroom Bisque
Quick Snacks and Appetizers:
$10,000 winner- Richard McHargue- Tex-Mex Appetizer Tarts
$2,000 winners:
Elizabeth Dell- Pepper-Jack Crescent Twists with Salsa-Ranch Dip
-Barbara Jones- Zesty Cheese Bread
-Florence Neavoll- Chicken Macadamia Appetizers
Fast and Easy Treats:
$10,000 winner- Edwina Gadsby- Brownie Souffle Cake with Mint Cream
$2,000 winners:
-Rose Weikel – Apple Crunch Coffee Cake
-Wendy Hart- Country Blueberry Coffee Cake
-Brenda Elsea- Bananas Foster Tart
Whirlpool Quick and Easy Award:  Carmen Hunter- White Chocolate Macaroons
To find the recipe for "Salsa Couscous Chicken" go to http://goo.gl/HNJu8
Photo of  "Salsa Couscous Chicken " is by my daughter, Kristina Vanni. Visit her blog at: http://www.betterrecipes.com/blogs/daily-dish
To read all my previous Bake-Off blogs:
Bake-Off #1: http://su.pr/7gmylO
Bake-Off #2: http://su.pr/2zgjZn
Bake-Off #3: http://su.pr/7VZzZS
Bake-Off #4: http://su.pr/292acQ
Bake-Off #5: http://su.pr/2yOSvP
Bake-Off #6: http://su.pr/28VYBh
Bake-Off #7: http://su.pr/1hk3nb 
Bake-Off #8: http://su.pr/22JMGd
Bake-Off #9: http://su.pr/2KkA2E
Bake-Off #10: http://su.pr/8awD1k
Bake-Off #11: http://su.pr/1CmPvD
Bake-Off #12: http://su.pr/3ogo5M
Bake-Off #13: http://su.pr/1a4HYQ
Bake-Off #14: http://su.pr/3tgiV5
Bake-Off #15: http://su.pr/7tQXBu
Bake-Off #16: http://su.pr/9nPW7c
Bake-Off #17: http://su.pr/9WIaqm
Bake-Off #18: http://su.pr/6MMS45
Bake-Off #19: http://su.pr/2A7GXI
Bake-Off #20: http://su.pr/2MwjlD
Bake-Off #21: http://su.pr/1nIgIJ
Bake-Off #22: http://su.pr/1nkUgJ
Bake-Off #23 http://su.pr/20jQDK
Bake-Off #24 http://su.pr/AMfFSj
Bake-Off #25 http://su.pr/4btzLZ
Bake-Off #26 http://su.pr/2sJrvp
Bake-Off #27 http://su.pr/9cG4B1
Bake-Off #28 http://su.pr/24CMm0
Bake-Off #29 http://su.pr/8th5eg
Bake-Off #30 http://su.pr/AUUGkZ
Bake-Off #31 http://su.pr/9j9TQ6
Bake-Off #32 http://su.pr/76Fl0s
Bake-Off #33 http://su.pr/26Q4KJ
Bake-Off #34 (part 1) http://su.pr/3TlcVI
                      (part 2) http://su.pr/7suCub
Bake-Off #35 http://su.pr/1lZC8X
Bake-Off #36 http://su.pr/1Ogl7Q
Bake-Off #37 http://goo.gl/39Fh0