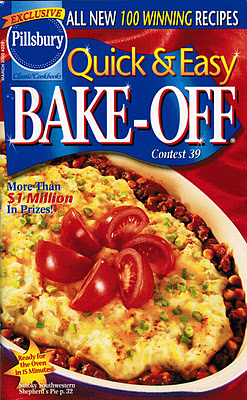 Bobbie Sonefeld, of Hopkins, South Carolina, and her husband Steve, had never been to the West Coast.  They certainly picked an amazing place to start – the opulent downtown San Francisco  Marriott Hotel, site of the 39th Pillsbury Bake-Off contest in 2000.  With all of the excitement of this dazzling trip, including gourmet meals and sight-seeing, Bobbie said she "already felt like a winner; it doesn't matter what happens next."  They even called it their "second honeymoon."  Well – the honeymoon wasn't over yet.  It got a million times better.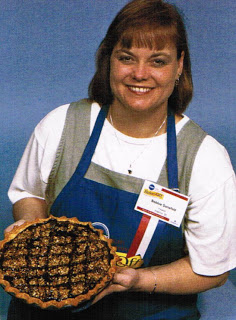 Bobbie's gorgeous and delicious "Cream Cheese Brownie Pie" won the grand prize of $1 million.  The second honeymoon suddenly became even more extravagant as Bobbie and Steve flew to New York City for a whirlwind of television and radio appearances, as well as to Philadelphia to appear on QVC.  After an amazing, and I imagine, a tiring week, Bobbie and her husband returned home to Hopkins to their extremely excited two sons.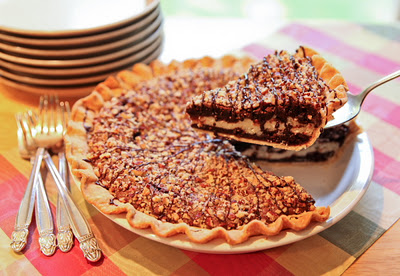 Bobbie's beautiful pie is a showstopper, with two of everyone's favorite ingredients – chocolate and cream cheese- all inside a Pillsbury Refrigerated Pie Crust.  Looks like a million dollars to me!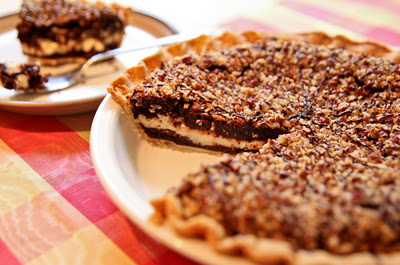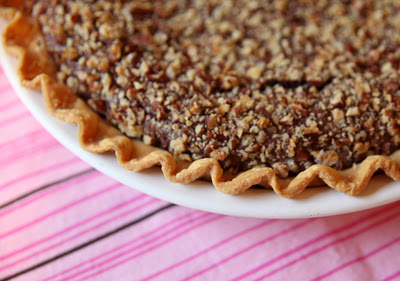 Now take a look again at the cover of this contest book.  You will see a yummy-looking and different kind of Shepherd's pie, called "Smoky Southwestern Shepherd's Pie," which happens to be close to my heart because that pie is from a special contestant at this contest – my daughter, Kristina, competing for her second time at the Bake-Off.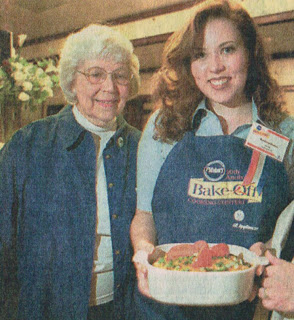 We were all so excited when Kristina made it into the contest because it was going to be in San Francisco, where my mom lives.  But here's the sad part of the story.  The newspaper photo above with Kristina and her Grandma is the only one I have of Kristina at this Bake-Off.  Not that I didn't take photos; I took dozens and dozens.  When we returned from the Bake-Off, the first thing I did was take the film to a camera store.  (There were no digital cameras yet!).  It was a place I had been going to for years and they had never messed up. Ever. Until now.  Not one single photo turned out.  They apologized profusely and admitted it was their error in the processing, but that didn't do much good.  I was heartbroken not to be able to have those precious memories in print to look at for years to come.  They felt bad; really bad.  Let's just say I got lots of free stuff.
Even with the photo fiasco, we still have amazing memories of this contest.  Kristina had the time of her life, and it began way before the contest even started.  First of all, not only was Kristina's dish selected for the cover, she was also featured inside the book.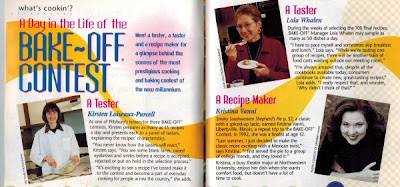 The story inside was titled "A Day in the Life of the Bake-Off Contest," featuring a tester (from the Bake-Off test kitchen), a taster (also from the test kitchen), and a recipe maker – Kristina!  Not only that, but Pillsbury decided to also film her for a special video presentation that was shown at the Bake-Off Awards program.  A film crew from New York was sent to Northwestern University near Chicago, where Kristina was a student at the time of the Bake-Off.  The cameras followed her around campus, in her kitchen making her entry, and even popped into one of her theatre acting classes as it was in session.  It was a thrill of lifetime for Kristina – and it wasn't even over yet.  After the excitement of being filmed on campus was still fresh in her mind, Kristina received a call from Pillsbury again.  This time they wanted to fly her to New York City to be on the CBS Morning Show to promote the Bake-Off right before the contest was to be held.  Kristina appeared on the show with host Jane Clayson, who called her dish a chicken pot pie instead of a shepherd's pie!  After the show, Kristina could have flown to the Bake-Off one day early before the contest, but instead she decided to stay one more day, and Pillsbury was fine with that, but she was on her own for the hotel for that evening.  If there was one place Kristina always wanted to stay, it was The Plaza.  Knowing she couldn't afford it, I called my friend Roxanne who was a travel agent.  Roxanne not only got Kristina a very affordable price, she asked the hotel for what I think was called "the run of the house."  If certain, usually upgraded, rooms are not taken, then a guest can be upgraded at the hotel's discretion.  Imagine Kristina's surprise when she told she was upgraded at no extra cost – to the Penthouse.  A Penthouse at the Plaza.  Not so bad for a college student on a budget.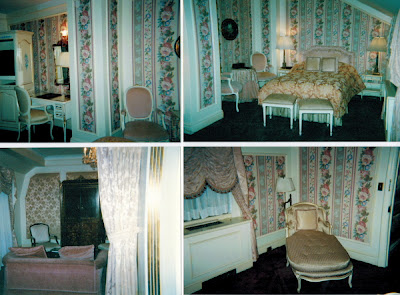 Kristina took these photos of her Penthouse Suite, and thankfully, they turned out.  These only show a small part of the suite.  If you have ever seen a movie called "The Holiday," there is a scene when Kate Winslet discovers that the house that she has "swapped" with another person, turns out to be a mansion.  She runs from room to room jumping up and down and squealing with delight.  Kristina said when she entered the suite, she did the same thing.  But let's back up a bit.  At the hotel desk when Kristina was told she would receive this upgrade, she was handed a large skeleton key.  Since she had never seen such a key, Kristina just smiled and held the key as she went up the elevator to the Penthouse.  Upon reaching her floor, she got off the elevator to see her suite and another suite close to hers, with a bodyguard standing outside the door.  Kristina went to her door and couldn't get the key to work.  The bodyguard who obviously observed her fumbling with the key, made no attempt to help her.  After several minutes of trying she asked the bodyguard if he knew how the keys worked.  He very hesitantly came over to help her and got the door open.  It wasn't until later that Kristina learned the bodyguard was protecting the door of a Prince of Saudi Arabia. 
Kristina entered her suite, gazed out the window, and took in New York City.  It was then that she decided to do something else she had never done- take a ride on one of the horse carriages around Central Park.  So instead of spending the last of her money on dinner, she spent it on a ride around the park of the city she fell in love with, and feeling like the luckiest college student in the world.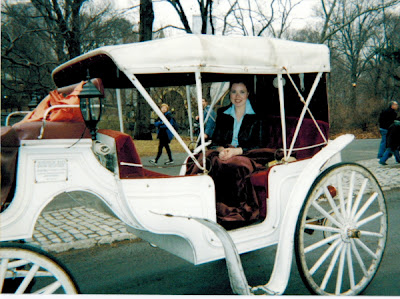 The next day, after sleeping on what Kristina called "the softest sheets on the most comfortable bed in the world," she left for San Francisco and the Bake-Off.  She was very excited to begin another adventure and see her Grandma, me, and sister Kara.  The Bake-Off always treats contestants like royalty, so we all had a grand time with all the dinners and sight-seeing trips.  At the contest, Kristina was a little tired, and forgot to put the milk in her mashed potatoes, but was able to make another dish and all was well.  She didn't win any money at the contest as she did her first, but had million dollar memories.  When she returned to her apartment at school, her friends were all excited to hear her stories, and had seen her on the Bake-Off telecast, which was on in place of "The Price is Right."  One person who was not happy, however, was an old woman who lived in the apartment below her.  As Kristina was going up her stairs, the woman saw her and said with an angry tone – "I saw you on TV.  You were on instead of my Bob Barker!!"  Ah, the life of a Bake-Off contestant…
Winners of Bake-Off # 39:
Easy Weeknight Meals Category:
$10,000 winner: 
-Lorraine Maggio- Ham and Swiss Crescent Braid
$2,000 Winners:
-Kristina Snyder- Fiesta Shrimp Tacos with Cucumber Salsa
-Elizabeth Dell- Seaside Shortcakes
-Debra Kelly- Double Cheeseburger Pizza Rounds
Yummy Vegetables Category:
$10,000 Winner:
-Judith Mettlin- Island Paradise Salad
$2,000 Winners:
-Inez Duke- Carolina Brunch-Style Grits
-Rosemary Leicht- Cauliflower Crunch
-Mary Jones- Cheesy Potato Corn Cakes
Fast and Fabulous Desserts and Treats Category:
$10,000 Winner (and Grand Prize Winner):
-Roberta (Bobbie) Sonefeld- Cream Cheese Brownie Pie
$2,000 Winners:
-Janice Kollar- Thick 'n Fudgy Triple Chocolate Pudding Cake
-Marjorie Bergemann- Chewy Chocolate-Peanut Butter Bars
-Heather Wight- Banana-Nut Cupcakes with Maple Frosting
Casual Snacks and Appetizers Category:
$10,000 Winner:
-Julia (Judy) Wood- Pesto Crescent Twists with Feta Spread
$2,000 Winners:
-Kelly Roos- Italian Ham Appetizer Squares
-Thomas Stuteville- Pesto Cheese 'n Chicken Bundles
-Tracie Ojakangas- Mozzarella and Pesto Crescent Tarts
GE Innovation Award:  Pat Parsons- Guess Again Candy Crunch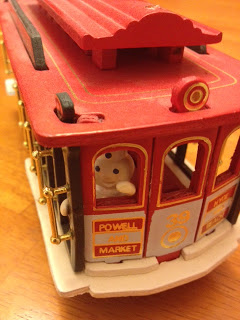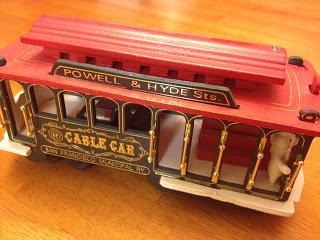 Good-Bye San Francisco!
To read more about the Pillsbury Bake-Off go to http://www.bakeoff.com/
To find the recipe for "Cream Cheese Brownie Pie" go to http://goo.gl/t19DM
Photos of "Cream Cheese Brownie Pie " are by my daughter, Kristina Vanni. Visit her blog at: http://www.betterrecipes.com/blogs/daily-dish
To read all my previous Bake-Off blogs:
Bake-Off #1: http://su.pr/7gmylO
Bake-Off #2: http://su.pr/2zgjZn
Bake-Off #3: http://su.pr/7VZzZS
Bake-Off #4: http://su.pr/292acQ
Bake-Off #5: http://su.pr/2yOSvP
Bake-Off #6: http://su.pr/28VYBh
Bake-Off #7: http://su.pr/1hk3nb
Bake-Off #8: http://su.pr/22JMGd  
Bake-Off #9: http://su.pr/2KkA2E
Bake-Off #10: http://su.pr/8awD1k
Bake-Off #11: http://su.pr/1CmPvD
Bake-Off #12: http://su.pr/3ogo5M
Bake-Off #13: http://su.pr/1a4HYQ
Bake-Off #14: http://su.pr/3tgiV5
Bake-Off #15: http://su.pr/7tQXBu
Bake-Off #16: http://su.pr/9nPW7c  
Bake-Off #17: http://su.pr/9WIaqm  
Bake-Off #18: http://su.pr/6MMS45
Bake-Off #19: http://su.pr/2A7GXI 
Bake-Off #20: http://su.pr/2MwjlD
Bake-Off #21: http://su.pr/1nIgIJ
Bake-Off #22: http://su.pr/1nkUgJ
Bake-Off #23 http://su.pr/20jQDK
Bake-Off #24 http://su.pr/AMfFSj
Bake-Off #25 http://su.pr/4btzLZ
Bake-Off #26 http://su.pr/2sJrvp
Bake-Off #27 http://su.pr/9cG4B1
Bake-Off #28 http://su.pr/24CMm0
Bake-Off #29 http://su.pr/8th5eg
Bake-Off #30 http://su.pr/AUUGkZ
Bake-Off #31 http://su.pr/9j9TQ6
Bake-Off #32 http://su.pr/76Fl0s
Bake-Off #33 http://su.pr/26Q4KJ
Bake-Off #34 (part 1) http://su.pr/3TlcVI
                      (part 2) http://su.pr/7suCub
Bake-Off #35 http://su.pr/1lZC8X
Bake-Off #36 http://su.pr/1Ogl7Q
Bake-Off #37 http://goo.gl/39Fh0
Bake-Off #38 http://goo.gl/5xrPz