Valentine's Day is one week from today.  If your sweetheart likes cookies, you can get a jump start.  Here are some photos of my Valentine's Day cookie cutters that I have been using for years.  Specialty cookies are a fun way to say "I Love You," and are easy to make.  Right now, you can make the sugar cookie dough, cut out the cookies, bake, and freeze them until Valentine's Day.  The cookies can be frosted, sprinkled, painted, or even left plain.  Any way you make them, they are adorable and appreciated because you made them yourself.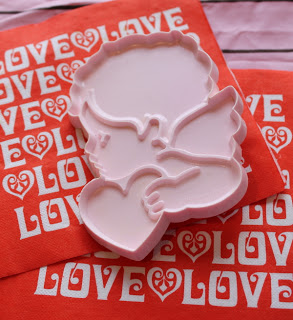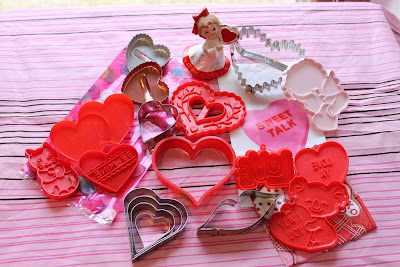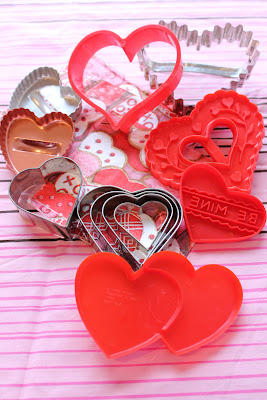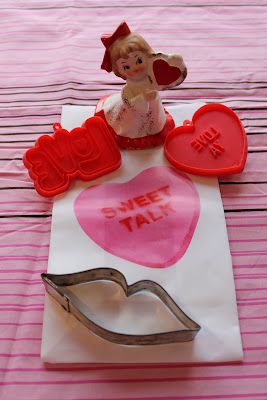 And just in case you need a sugar cookie cookie recipe, here is my grandma's favorite, which I use for all my cut-out cookies for any occasion.
Gram's Sugar Cookies
1 cup unsalted butter, softened
1 cup granulated sugar
1 egg
2 teaspoons vanilla extract  (or use your favorite flavor like lemon, almond, peppermint, etc.)
3 cups all purpose flour
1/2 teaspoon baking soda
1/2 teaspoon salt
Desired color of food coloring, optional
1.  Cream together butter and sugar until light and fluffy.  Add egg and vanilla; beat well.  Add sifted dry ingredients and mix well. Tint with desired color of food coloring, if you like.  It can be pink or red for Valentine's Day.  Form dough into a ball and wrap in plastic wrap.  Refrigerate at least several hours or overnight.
2.  When ready to bake cookies, heat oven to 350 degrees.  Line several cookie sheets with parchment paper.
3.  On a lightly floured surface, roll out dough until thin and cut into desired shapes.  Place shapes on prepared baking sheets.  Bake for 8-12 minutes or until golden.  Remove and cool on wire rack.  Decorate as desired.